Are you ready to spread some Valentine's Day magic? I know I am!
Today, I want to share a fantastic and heartfelt way to show your affection to that special someone in your life.
You might be wondering, "Why jars?"
Well, let me tell you, jars are like little containers of joy! They add a personal touch to your gifts and are incredibly versatile. Plus, they're just so darn cute!
Whether you're a crafty guru or a novice DIY enthusiast, these ideas are perfect for anyone willing to put a sprinkle of love into their presents.
Ready to take your Valentine's Day game to the next level? Let's get crafting, and I promise you won't be disappointed.
So, scroll down and explore the magical world of DIY Valentine's gifts in a jar!
Love, Laughter, and Jars: 5 Creative Valentine's Day Gifting Ideas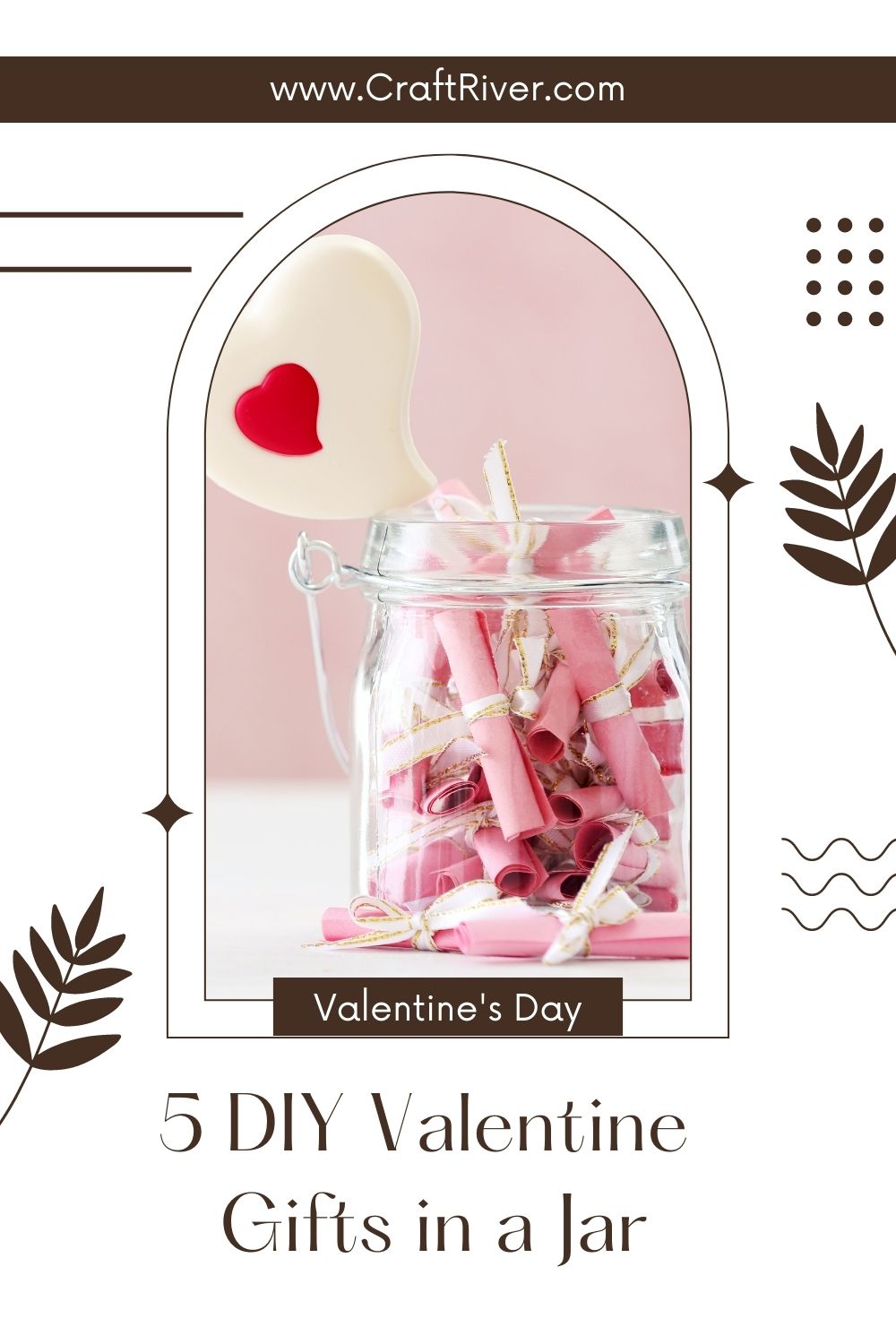 Valentine's Day is just around the corner, and love is in the air! But finding the perfect gift for that special someone can often be a daunting task.
This year, why not embark on a unique jar-gifting journey? With endless possibilities, these personalized jars are a heartfelt way to show your affection.
Whether it's filled with handwritten love notes, sweet treats, or sentimental trinkets, sealing your affection in a jar will surely leave your loved one feeling adored.
So dive into the world of jar-gifting and let your creativity soar as we explore enchanting ideas to make this Valentine's Day truly unforgettable.
Love in a Jar: DIY Memory Jar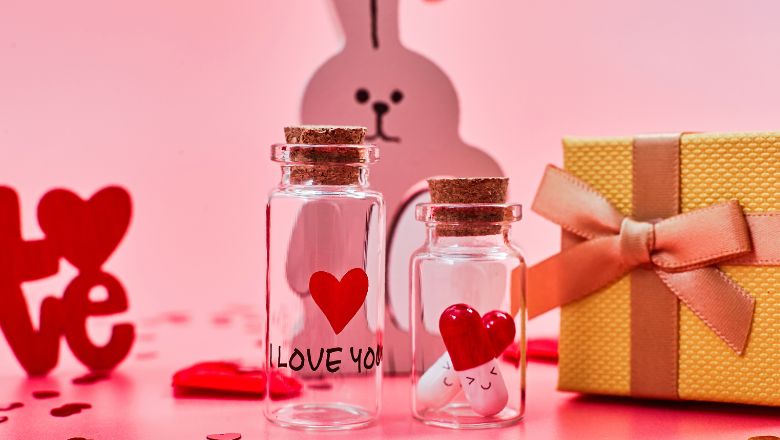 A jar filled with cherished moments and heartfelt messages that will make your special someone's heart melt.
This is not your average gift; it's a vessel of love and memories!
Step 1: Pick the Perfect Jar
First things first, find a jar that speaks to your creative soul! It could be a mason jar, a cute glass jar, or even a repurposed container you have lying around. The key is to make it uniquely yours.
Step 2: Personalize Your Jar
Now comes the fun part – let your creativity flow! Decorate the jar with ribbons, stickers, or paint. Add a touch of your personality to make it one of a kind.
Step 3: Fill it with Memories
Think of all the special moments you've shared with your loved one. From that hilarious inside joke to that magical date night, jot down these precious memories on colorful slips of paper.
Step 4: From the Heart
It's time to pour your heart out! Write heartfelt messages and love notes to express your feelings. This jar is all about capturing your emotions and making your loved one feel cherished.
Step 5: Seal with Love
Seal the jar with a kiss, a hug, or a cute heart sticker. It's ready to deliver that warm rush of emotions to your significant other.
Bonus Tip: The Gift of Time
If you're celebrating a milestone together, consider setting up a date night jar. Write down different date ideas on popsicle sticks and surprise your partner with spontaneous adventures!
Now, imagine the look on their face when they open this magical jar of memories. It's a gift that keeps on giving, filling their heart with joy every time they reach in and pull out a memory.
Sweet Surprises: DIY Jar of Love Coupons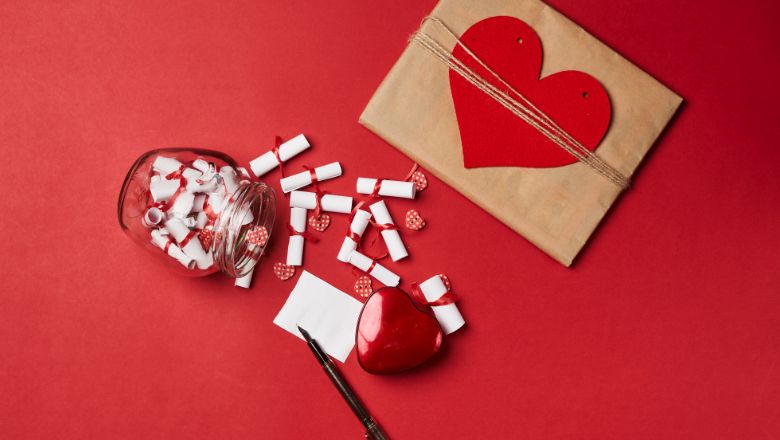 These little tokens of affection are like magic vouchers that your loved one can redeem for special treats, favors, and quality time together.
It's a surefire way to make them feel loved and cherished!
Step 1: Gather Your Supplies
To get started, you'll need some colored paper, scissors, a pen, and a jar, of course! You can also get creative with stickers, markers, or stamps to add that personal touch.
Step 2: Coupon Ideas Galore
Now comes the fun part – brainstorming your love coupons! Think about the things that your partner would adore. From a relaxing foot massage to breakfast in bed, let your imagination run wild.
Step 3: Put Pen to Paper
Time to write down your love-filled promises on colorful paper. Keep them short and sweet, and don't forget to add a dash of humor! For example, "Good for one movie night of your choice – no complaining about my movie picks!"
Step 4: Decorate the Jar
Jazz up the jar to match the love-filled content inside. Tie a pretty ribbon around the neck of the jar or stick on some heart-shaped stickers. The goal is to make it look as charming as your love!
Step 5: Fill it Up
Drop your love coupons into the jar, and voilà – you've just created a jar full of sweetness and surprises! Imagine your loved one's excitement as they reach in and discover all the treats you have in store for them.
Bonus Tip: Customize Away!
Feel free to customize your love coupons to suit your partner's preferences. If they love homemade meals, add a coupon for a special candlelit dinner. If they enjoy spa days, create a coupon for an at-home spa session.
With your DIY Jar of Love Coupons, you'll have the power to brighten their day whenever they wish! It's a heartwarming and thoughtful gift that will keep on giving long after Valentine's Day.
Love Potion: DIY Scented Bath Salts in a Jar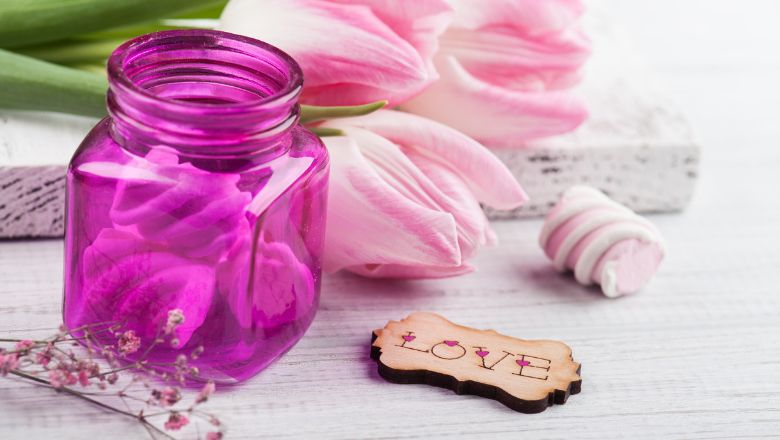 It's time to sprinkle a little magic into their self-care routine and let them indulge in a relaxing and pampering experience!
Step 1: Gather Your Ingredients
For this love potion, you'll need Epsom salt or sea salt, essential oils in your favorite scents, and some dried rose petals or lavender buds for an extra touch of romance.
Step 2: Mix the Magic
In a bowl, combine the Epsom salt or sea salt with a few drops of essential oil. Get creative with the scents – lavender for relaxation, eucalyptus for rejuvenation, or rose for a touch of romance.
Step 3: Add a Dash of Romance
Now, it's time to sprinkle in those dried rose petals or lavender buds. These botanical beauties will not only add fragrance but also create a visually stunning effect in the bath.
Step 4: Decorate the Jar
Take your jar and give it a touch of enchantment. Tie a ribbon around the lid, add a heart-shaped tag, or even a small love note – let your imagination run wild!
Step 5: Fill it with Love
Scoop the scented bath salts into the jar, and you've just brewed a love potion! This delightful jar of self-care magic will turn an ordinary bath into a luxurious and soothing experience.
Bonus Tip: Personalized Labels
To add an extra thoughtful touch, create personalized labels for the jar. Include a heartfelt message or even your loved one's name. It's these small details that make all the difference!
Now, imagine your loved one unwinding in a warm, scented bath, surrounded by the soothing aroma and romantic ambiance. This DIY Scented Bath Salts in a Jar is not just a gift; it's a gesture of love and caring for their well-being.
Jarful of Delights: DIY Valentine's Day Treat Jar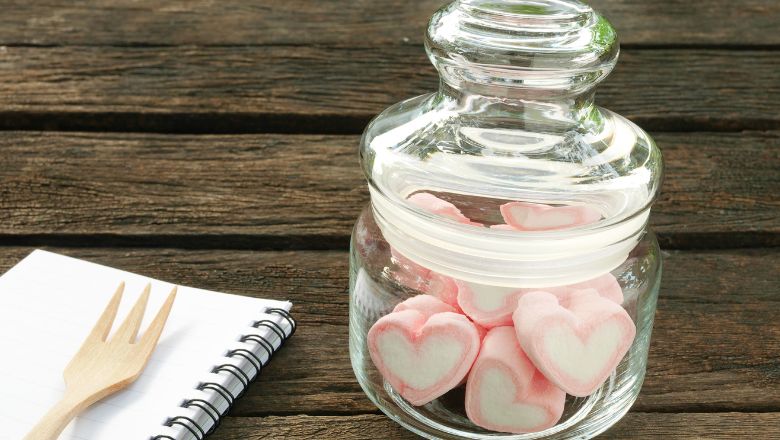 This jar is filled to the brim with delectable goodies that will make their heart skip a beat. It's a deliciously charming way to show your affection!
Step 1: Pick Your Treats
Think of your loved one's favorite treats – chocolates, candies, cookies, or maybe even some homemade goodies! You can choose a single treat or create layers of different treats for an eye-catching display.
Step 2: Get a Jar and Some Love
Select a clear glass jar that's big enough to hold the treats you've chosen. Fill it with love as you imagine their excitement while opening this delightful surprise.
Step 3: Layer with Love
If you're going for a layered look, start with one treat and add a layer of another. Repeat until the jar is filled with a delicious medley of sweetness. The colorful layers will make it even more appealing!
Step 4: Add a Personal Touch
Tie a ribbon around the lid or attach a heart-shaped tag with a sweet message. You can even decorate the jar with Valentine-themed stickers or drawings.
Step 5: Seal the Sweetness
Put the lid on the jar, and your Jarful of Delights is ready to go! This scrumptious gift will have your loved one indulging in pure happiness with every bite.
Bonus Tip: Homemade Treats with Love
If you have a talent for baking or making treats, consider whipping up something homemade! Handmade treats always have that extra sprinkle of love.
Now, imagine the joy on their face as they open the jar and discover the delightful goodies inside. It's a gift that not only satisfies their taste buds but also warms their heart with your thoughtfulness.
Heartfelt Glow: DIY Mason Jar Candle Holder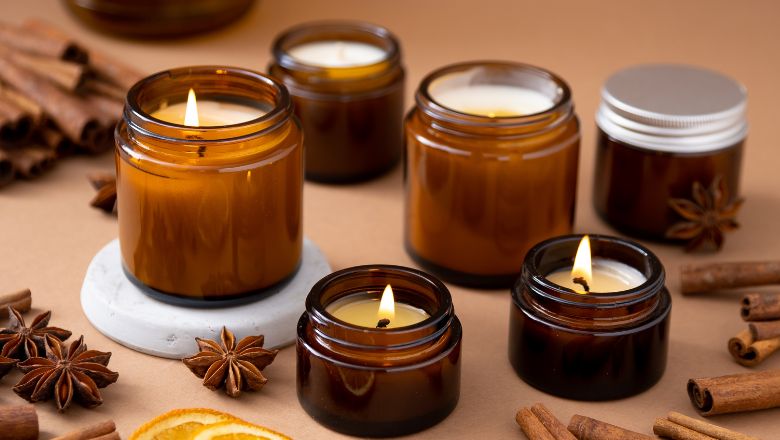 Get ready to ignite this DIY valentine gift that will set the mood for a romantic and cozy Valentine's Day celebration.
This charming creation will not only add a warm ambiance to the occasion but also showcase your crafty flair!
Step 1: Gather Your Materials
For this DIY project, you'll need a clean mason jar, acrylic paint in your favorite colors, a paintbrush, and some decorative elements like ribbons or twine.
Step 2: Let Your Creativity Shine
Paint the mason jar with your chosen colors. You can go for classic Valentine's Day shades like red, pink, or even a soft pastel hue. Create beautiful patterns or paint hearts to add a touch of romance.
Step 3: Light up the Love
Once the paint is dry, place a votive candle or a tea light inside the jar. Watch as the flickering candlelight enhances the mason jar's charm, creating a heartfelt glow.
Step 4: Embellish with Love
Get creative with decorations! Tie a ribbon or twine around the neck of the jar, and you can even add heart-shaped charms or beads for an extra special touch.
Step 5: Display with Pride
Your DIY Mason Jar Candle Holder is now ready to shine! Place it on a tabletop or even hang it with some twine for a rustic, whimsical look.
Bonus Tip: Personalize with Initials
For a truly intimate touch, add your loved one's initials to the jar using letter stickers or paint. This personalized detail will make it all the more special.
Now, imagine the romantic atmosphere as the candle inside the jar casts a warm glow around the room. This DIY Mason Jar Candle Holder adds a touch of intimacy and charm, making it the perfect centerpiece for your Valentine's Day celebration.
Seal it with Love: Your Valentine's Jar-Gifting Journey
You've made it to the end of our magical journey through the realm of DIY Valentine gifts in a jar. Can I just say, you rocked it?
Remember those adorable little jars we talked about earlier? They turned out to be more than just containers; they became vessels of love and joy.
So, as you bask in the afterglow of a successful DIY Valentine's Day, take a moment to pat yourself on the back.
You've truly made this year's celebration extra special. And guess what? The journey doesn't have to end here. Keep your creative spirit alive and continue spreading love all year round.