Picture yourself lounging under a beautiful canopy, basking in the warm sun while sipping your favorite drink. Sounds dreamy, right?
Well, hold on tight, because I've got five ingenious and budget-friendly DIY Outdoor canopy ideas that will have your backyard transformed in no time.
From rustic charm to modern elegance, I've got options to suit every taste.
But that's not all! We'll dive into the step-by-step instructions for each idea, making it a breeze for you to recreate these stunning canopies all by yourself. No need to hire professionals or break the bank – DIY has never been this fun!
Are you ready to elevate your outdoor oasis to a whole new level? Well then, let's jump right into these awesome DIY outdoor canopy ideas and make your backyard the envy of the neighborhood!
Shade and Style: 5 DIY Outdoor Canopy Ideas for Your Backyard Oasis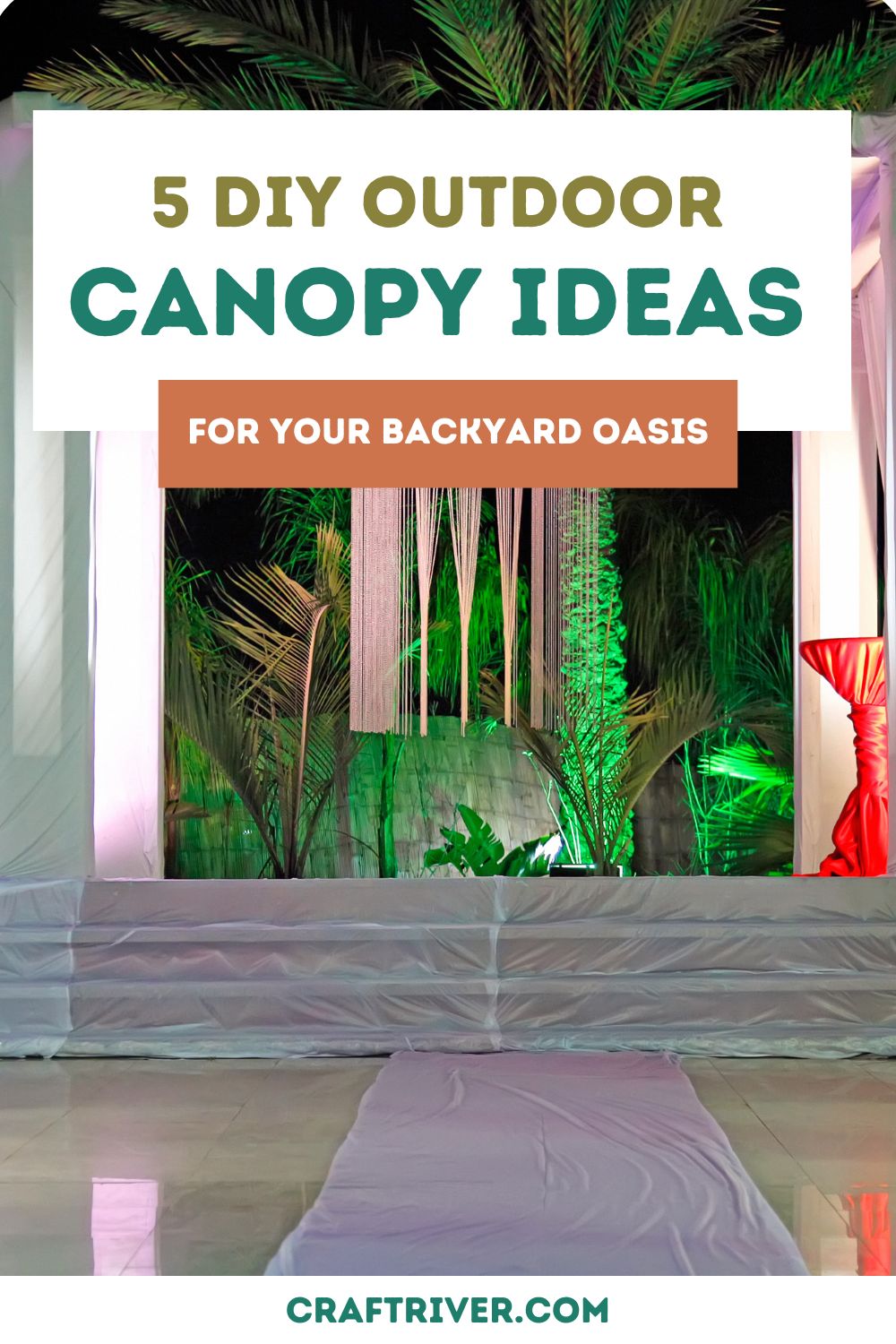 I love spending time outdoors, and having a canopy in my backyard has been a game-changer!
If you're like me and enjoy the fresh air but also want some shade, here are five amazing DIY outdoor canopy ideas to transform your space. 
DIY Outdoor Canopy Ideas #1: Rustic Driftwood Canopy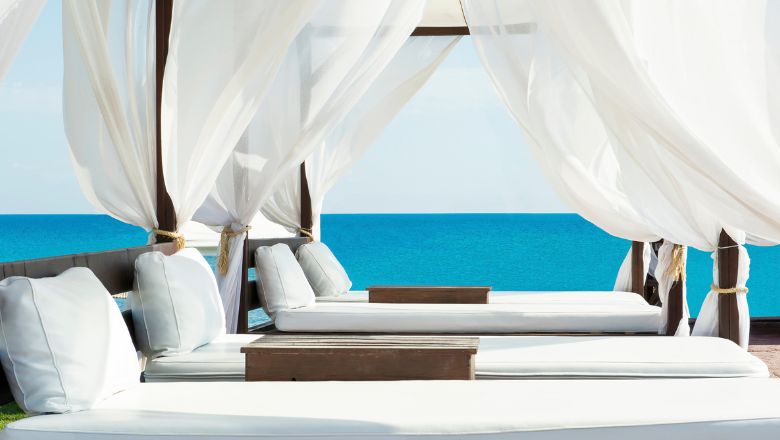 Ready to add some coastal charm to your backyard? Say hello to the Rustic Driftwood Canopy – the perfect mix of nature and creativity!
Materials you'll need
Driftwood pieces (gathered from your beach adventure!)

Sturdy rope

Eye hooks

Your favorite fabric (think breezy and light)
Let's get crafting
Driftwood Collection: First things first, channel your inner beachcomber and head to the shore to find those beautiful driftwood pieces. Look for various shapes and sizes to create that rustic feel.

Rope it Together: Once you have your driftwood collection, start tying them together with the rope. Make sure to create a sturdy structure that can withstand the elements.

Hang It Up: Find the perfect spot in your backyard to hang your masterpiece. Attach eye hooks to the trees or the side of your porch. Remember, this is your cozy hideaway!

Fabric Fun: Now comes the fun part – draping the fabric over your driftwood canopy frame. Choose a light and airy fabric that lets the sunlight peek through while offering a touch of privacy.
Now, step back and admire your creation! The Rustic Driftwood Canopy brings that laid-back beach vibe right into your backyard.
It's a magical spot to relax with a good book, enjoy a cool breeze, or simply daydream under the gentle sway of the fabric.
Pro tip: Enhance the cozy atmosphere by adding some soft cushions and fairy lights around the canopy. You'll be transported to a coastal paradise in no time!
The best part about this DIY canopy? Each driftwood piece tells its own story, making your creation truly one-of-a-kind. It's like nature's art installation right in your backyard!
So, grab your sunhat, get those creative juices flowing, and let the Rustic Driftwood Canopy project begin! Your backyard will thank you for the coastal makeover, and you'll have a new favorite spot to unwind and watch the world go by.
DIY Outdoor Canopy Ideas #2: Whimsical Twinkle Lights Canopy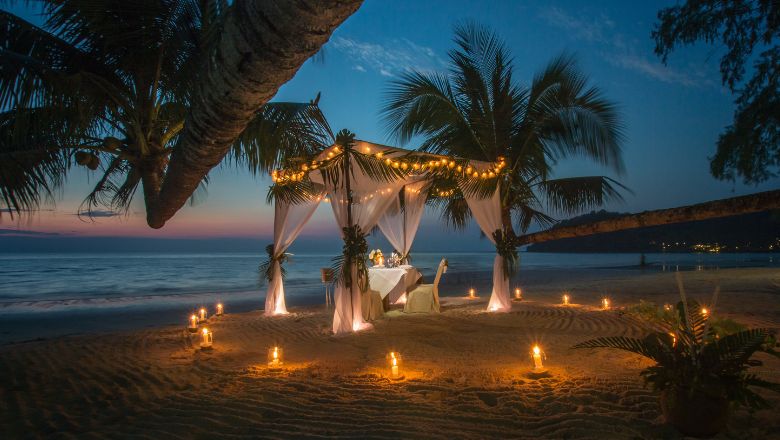 Get ready to transform your backyard into a magical wonderland with the Whimsical Twinkle Lights Canopy!
Gather these materials
String lights (go for the sparkling fairy lights!)

A curtain rod (you can use a sturdy branch too!)

Sheer curtains (soft and dreamy)
Now, let's create the magic
Hang the Curtain Rod: First things first, find the perfect spot to hang your curtain rod. It could be between two trees or the side of your porch – anywhere that lets the twinkle lights shine brightly.

Let There Be Light: Drape the string lights along the curtain rod in a gentle curve. Make sure to leave some slack between each light to create that whimsical effect. It's like you're stargazing right in your backyard!

Curtain Call: Now, hang the sheer curtains on the sides of the curtain rod. These delicate curtains will diffuse the light, creating a soft and dreamy ambiance. It's like stepping into a fairytale!

Light It Up: Once everything is in place, plug in those twinkling lights and watch the magic unfold. The Whimsical Twinkle Lights Canopy transforms your backyard into a mesmerizing wonderland, perfect for late-night chats and enchanting gatherings.
Get creative with it
Add some colorful paper lanterns or origami shapes to add pops of color to the canopy.

Hang some glass jars with tea lights to create a cozy and romantic atmosphere.

If you have a pergola or gazebo, incorporate the twinkle lights for a starry-night effect.
The best part? This DIY canopy project is perfect for any occasion. From intimate date nights to lively garden parties, the Whimsical Twinkle Lights Canopy adds a touch of magic to every event.
As the sun sets, your backyard will transform into a fairytale-like realm, inviting you to relax and create beautiful memories under the twinkling stars.
Share the joy of creating this enchanting canopy, and bask in the warm glow of your whimsical masterpiece. The Whimsical Twinkle Lights Canopy is pure magic – all it needs is you to make it shine!
DIY Outdoor Canopy Ideas #3: Bohemian Macramé Canopy Swing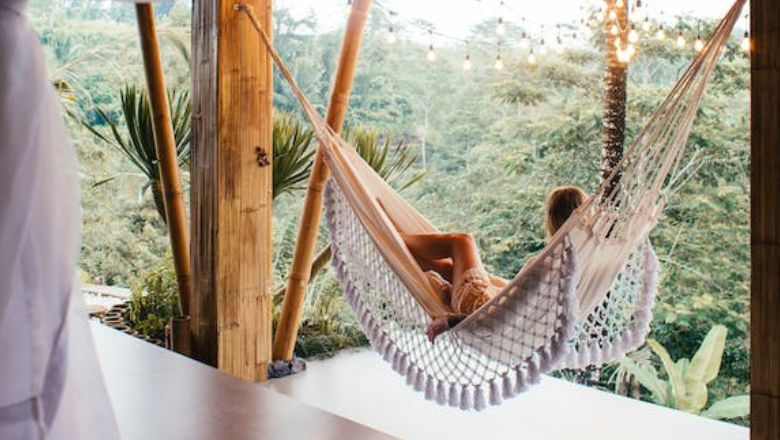 Get ready to swing your way into bliss with the Bohemian Macramé Canopy Swing – a cozy retreat that's sure to steal your heart!
Gather these materials
A sturdy wooden plank (for the seat)

Macramé rope (choose a soft and durable one)

A comfy cushion (to snuggle up)

Strong chain and hooks (for hanging)
Let's create the boho magic
Craft the Seat: Begin by choosing a smooth wooden plank for your swing seat. Sand it down for a polished look, and don't forget to add some boho-inspired patterns with paint if you're feeling artsy!

Macramé Marvel: It's time to let your macramé skills shine! Create a beautiful macramé pattern to form the swing's canopy. You can follow online tutorials or let your creativity flow for a unique design.

Hang It Up: Attach the macramé canopy to the sturdy wooden plank. Ensure that it's securely fastened for your safety. Now, use strong chains and hooks to hang your bohemian swing from a tree branch or porch beam.

Cushion Comfort: Add a soft and plush cushion to the swing seat. This will be your little oasis of comfort as you sway gently with the breeze. Feel free to use colorful and patterned cushions to amp up the boho vibe!
Find your Zen
Surround the swing with potted plants and dreamcatchers to enhance the bohemian atmosphere.

Hang fairy lights around the canopy for a touch of whimsy during evening swings.

Add a few plush pillows and a cozy blanket to create the ultimate spot for daydreaming and relaxation.
The Bohemian Macramé Canopy Swing is not just a swing – it's an artistic masterpiece that brings nature and creativity together in harmony.
It's the perfect sanctuary for self-reflection, reading your favorite books, or simply swaying your worries away.
Embrace the bohemian spirit, let the macramé magic flow through your fingertips, and create a swing that not only elevates your backyard but also lifts your spirits high!
Grab a cup of herbal tea, invite your besties for a swing session, and let the Bohemian Macramé Canopy Swing be your sacred space for peace, love, and endless boho vibes!
DIY Outdoor Canopy Ideas #4: Upcycled Bed Sheet Canopy Tent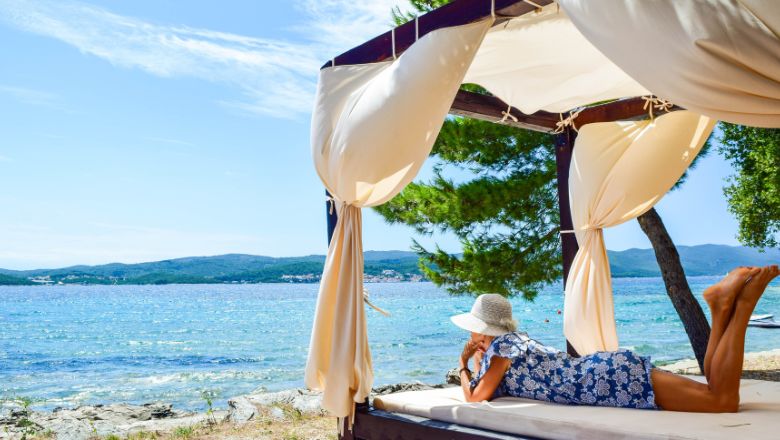 Hey there, eco-warriors and creative souls! Get ready to embark on a sustainable adventure with the Upcycled Bed Sheet Canopy Tent – the perfect blend of resourcefulness and imagination!
Gather these materials
An old bed sheet (pick your favorite color or pattern)

Sturdy PVC pipes and connectors (easy to work with)

Pegs (for securing the canopy)
Let's get crafty
Bed Sheet Hunt: Raid your closet or head to the local thrift store to find an old bed sheet that you no longer use. Remember, it's all about repurposing and giving new life to forgotten treasures!

Frame Formation: Create a frame using the PVC pipes and connectors to form the base of your canopy tent. Don't worry; it's a breeze to assemble and customize according to your desired size.

Drape and Secure: Now, drape the bed sheet over the PVC frame to form the canopy tent. Feel free to play with the draping style – gather it on one side or let it flow gracefully all around.

Peg It Down: Use pegs to secure the bed sheet to the ground, ensuring your cozy haven stays put even on windy days. You can also weigh down the corners with decorative stones or planters.
Make it your own
Create a dreamy boho vibe by adding fairy lights inside the tent.

Set up a soft mattress or a pile of cushions for an extra comfortable retreat.

Add some indoor plants around the tent to bring nature indoors.
The Upcycled Bed Sheet Canopy Tent is not just a DIY project; it's a symbol of conscious creativity and making the most of what you have.
It's your guilt-free escape to relaxation without breaking the bank!
And guess what? This canopy tent is not just for kids; it's perfect for the young at heart too!
Whether you want a cozy reading nook, a playful hideaway for the little ones, or a charming spot to meditate, this tent's got your back.
Call up your eco-conscious friends, embark on an upcycling adventure together, and let the Upcycled Bed Sheet Canopy Tent be a testament to your creative ingenuity and love for Mother Earth.
DIY Outdoor Canopy Ideas #5: Pergola Oasis Canopy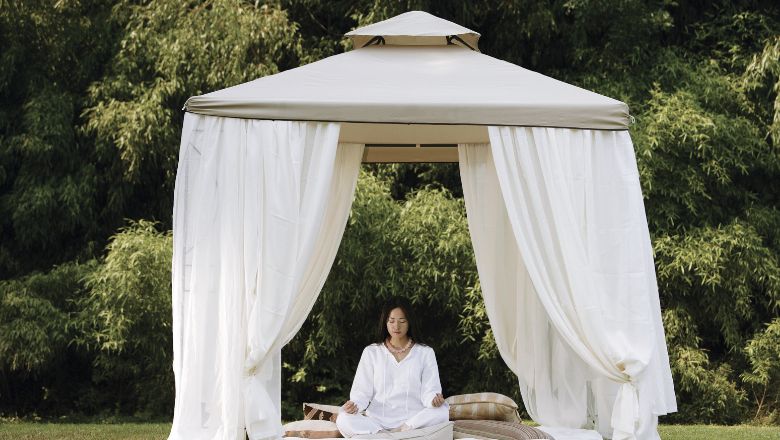 Get ready to elevate your backyard to new heights with the Pergola Oasis Canopy – a permanent sanctuary that exudes elegance and tranquility!
Gather these materials
Sturdy wooden beams (for the pergola frame)

Shade fabric (choose a durable and UV-resistant one)

Screws and tools (to build the pergola)
Let's build your oasis
Pergola Planning: Start by designing your dream pergola – the heart of your oasis. Choose a spot that offers a perfect balance of shade and sunlight throughout the day.

Beam Brilliance: Assemble the wooden beams to form the pergola frame. Make sure it's solid and secure to withstand the test of time and weather.

Shade it Up: Now, drape the shade fabric over the pergola frame. This soft and elegant canopy not only provides shade but also adds a touch of sophistication to your outdoor space.

Complete the Ambiance: Furnish your pergola oasis with cozy outdoor furniture – a comfy seating area, a dining table, or even a hammock for ultimate relaxation. Don't forget to add some leafy plants to bring nature's serenity closer.
Customize your oasis
Hang fairy lights or lanterns around the pergola for enchanting evenings.

Add some sheer curtains to create a private retreat within your oasis.

Install a ceiling fan or misting system to stay cool during hot summer days.
The Pergola Oasis Canopy is more than just a canopy – it's a statement piece that transforms your backyard into a luxury retreat.
This permanent structure allows you to enjoy outdoor living to the fullest, year after year.
Whether you're hosting a chic outdoor soirée or simply unwinding with a glass of lemonade, the Pergola Oasis Canopy becomes your go-to spot for embracing the beauty of nature without compromising on style.
Gather your friends and family, put on your builder hats, and let the Pergola Oasis Canopy become the crown jewel of your backyard. Your oasis awaits, and it's time to create unforgettable memories under its gracious embrace!
Ready to Canopy-fy Your Backyard? Go DIY and Create Your Oasis!
Now, I'm no expert in carpentry, but with these projects, I felt like a true DIY maestro!
The best part? You can tailor these canopies to fit your unique style and needs. Whether you prefer a rustic vibe or a touch of modern elegance, the possibilities are endless.
Imagine hosting a fabulous outdoor gathering with friends, surrounded by the cozy charm of your handcrafted canopy.
Picture yourself curling up under the stars with a good book, all while being sheltered by your very own DIY creation. It's pure bliss, I tell you!
And the best news? You don't have to break the bank to achieve this backyard haven. These budget-friendly projects are proof that you can achieve the extraordinary without spending a fortune.
But wait, there's more! With easy-to-follow instructions and a dash of patience, you'll be surprised at what you can accomplish. Even if you're new to the world of DIY, fear not – I was a newbie too, and I couldn't be happier with the results.
So, what are you waiting for? It's time to roll up those sleeves and create the outdoor oasis you've always dreamed of. I believe in you!
Go forth and make your backyard shine with the charm of these incredible DIY outdoor canopy ideas. Let's bring on the canopy vibes!