Are you ready to make this Father's Day extra special? Let me tell you about a unique and heartwarming surprise that's sure to leave your dad beaming with joy.
It's all about creating your very own DIY Neroli Beer Soap!
I know what you might be thinking – "Soap? Really?" But trust me, this isn't just any ordinary soap. It's a magical concoction of beer and neroli, and it's surprisingly simple to make.
Plus, the result is not just a thoughtful gift; it's a symbol of appreciation and love, with a touch of homemade charm.
In this blog post, I'll take you through the step-by-step process of crafting this sudsy delight. We'll blend the scents, mold the soap, and create a Father's Day gift that's as unique as your dad's.
Craft the Perfect DIY Neroli Beer Soap: A Unique Father's Day Gift Idea!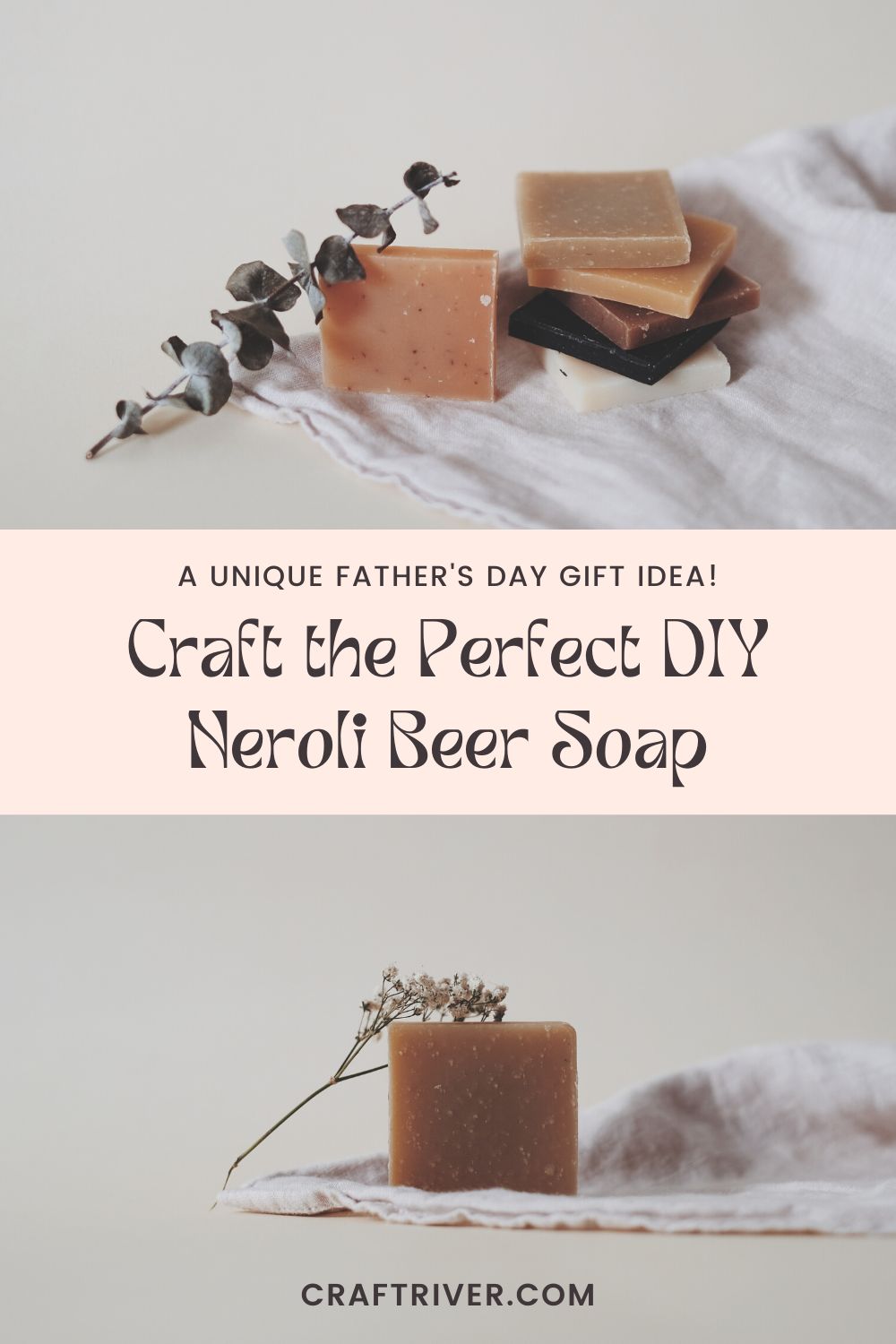 Picture this – a sunny afternoon, the kitchen transformed into a creative hub, and the excitement of crafting something extraordinary for your dad.
That's exactly what awaits you when you decide to make DIY Neroli Beer Soap.
Not only is this gift a gesture of love but the process of making it will also create lasting memories.
Why Neroli Beer Soap?
You might be wondering why we chose beer and neroli of all things.
Well, first of all, beer is not just for drinking; it has some amazing skin benefits too! The natural sugars and yeast in beer can help nourish and moisturize the skin, leaving it feeling soft and supple.
Neroli, on the other hand, is an essential oil derived from orange blossoms and is known for its calming and soothing properties.
Imagine the blend of Neroli's sweet aroma and beer's effervescence; it's a match made in soap heaven!
Plus, the best part is that you can easily customize the scent to suit your dad's preferences, whether he likes a zesty citrus fragrance or a more earthy and masculine aroma.
Simple Ingredients, Big Results
One of the best things about making DIY Neroli Beer Soap is that you don't need a long list of complicated ingredients.
You might already have most of them lying around in your kitchen!
Here's what you'll need:
Beer (go for a brew with a scent you think your dad will love)

Essential oil of neroli (or any other preferred scent)

Olive oil

Coconut oil

Lye (sodium hydroxide) – Don't worry, it's safe to use in soap-making; just be sure to handle it with care!
Step-by-Step Guide
Now that we have our ingredients ready, it's time to get creative! Here's a brief overview of the process:
Prepare your workspace and gather all the necessary equipment.

Mix the beer and lye – this is where the magic begins as the two react to create the soap base.

Combine the olive oil and coconut oil in a separate container and heat them.

Once both mixtures have cooled to the right temperature, it's time to blend them along with the essential oil of your choice.

Pour the mixture into molds of your choosing, and the waiting game begins.

After a short while, the soap will set, and you can remove it from the molds.

Let the soap cure for a few weeks to ensure it's ready to be used.
A Gift Straight from the Heart
As the soap takes shape, you'll find yourself filled with excitement and anticipation.
The best part is knowing that this gift is not just a token of your love; it's a labor of love too.
The time and effort you put into making DIY Neroli Beer Soap make it all the more meaningful and special for your dad.
When the big day arrives, and you present your dad with this fragrant, personalized soap, his face will light up with joy and appreciation. It's a Father's Day surprise he'll cherish for a long time to come.
So, why settle for predictable presents when you can make a splash with a DIY Neroli Beer Soap that's tailor-made for your dad? It's an unforgettable gift that celebrates your unique bond and showcases your creativity.
This Father's Day, let your dad know just how much he means to you with a heartfelt and sudsy surprise.
Craft your way to his heart and create memories that will last a lifetime!
The Perfect Blend: Neroli Beer Soap – An Unconventional Father's Day Gift
Neroli Beer Soap is truly a one-of-a-kind gift that will surprise and delight any father this Father's Day.
With its unique blend of neroli and beer, it offers a refreshing and invigorating scent that will transport him to a luxury spa experience in his bathroom.
Not only does it provide a luxurious cleansing experience, but its moisturizing properties will leave his skin feeling soft and nourished.
Give your dad the gift of indulgence and relaxation with the Neroli Beer Soap – he deserves it!