As the leaves start to change colors and the air turns crisp, I can feel the excitement building up for that spook-tacular time of year. Yes, you guessed it right—I'm talking about Halloween!
Now, I must confess, I LOVE throwing epic Halloween parties for kids. The joy on their faces, when they see all the creepy decorations and cute costumes, is simply priceless. And let me tell you a little secret—it doesn't have to be a daunting task to host an unforgettable bash!
I've discovered five wickedly awesome DIY Halloween party ideas that will leave your little monsters grinning from ear to ear.
So, if you're ready to sprinkle some magic into your Halloween celebration and create memories that'll last a lifetime, stick around!
From eerie treats to hauntingly fun games, these ideas are so simple and entertaining, you won't believe how easy it is to make your Halloween party the talk of the town (or at least the talk of the playground).
So, grab your broomsticks, and let's dive into these creative DIY Halloween party ideas that'll have the kiddos begging for more!
Are you ready to make this Halloween a real treat for your little ones? Then let's brew up some spooky fun together!
5 Easy DIY Halloween Party Ideas For Kids!
Hosting a spook-tacular Halloween party for kids doesn't have to be a daunting task.
With these 5 easy DIY ideas, you can transform your home into the ultimate haunted haven and make the little ones scream with delight!
DIY Halloween Party Idea #1: Ghoulish Decor Delights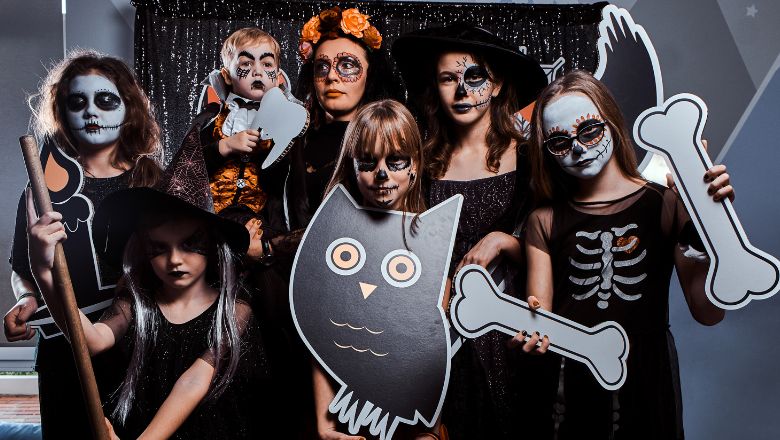 Ready to brew up some spook-tacular decorations that'll leave your little guests enchanted? Let's dive into the world of DIY Ghoulish Decor Delights, where we'll transform your party venue into a haunted wonderland!
Picture this: your front yard adorned with eerie glowing ghosts, creepy crawlies hanging from the trees, and spooky silhouettes dancing in the moonlight.
With DIY Ghoulish Decor, you can create an enchanting atmosphere that'll send shivers down everyone's spine—in a good way, of course!
Hauntingly Simple Decorations
You don't need magical powers to conjure up these decor delights! Grab some old bedsheets, and with a few strategic cuts and a touch of creativity, you'll have your very own DIY ghostly apparitions floating around your home.
Don't forget to add glowing eyes using LED lights to make them extra spooky!
Petrifying Pumpkins
Carving pumpkins is a Halloween tradition, but why stick to the traditional jack-o'-lanterns? Unleash your imagination and try some wickedly wonderful pumpkin designs.
How about a grinning cat or a ghostly graveyard scene? Get the kids involved too, they'll love scooping out the pumpkin guts!
Wickedly Welcome Signs
Greet your guests with a custom-made Halloween welcome sign!
Crafty witches and wizards like you can create a bewitching message using some old wooden planks and paint. Add creepy cobwebs and spiders for that extra eerie touch!
Enchanted Illumination
What's a Halloween party without the perfect lighting? Create an otherworldly atmosphere by transforming simple mason jars into mystical lanterns.
Fill them with flickering LED candles and wrap them in gauzy fabric to cast a hauntingly beautiful glow.
Boo-tiful Balloon Spectacle
For an effortless yet impressive decoration, fill black and orange balloons with helium and let them float around your party area.
You can even add spooky faces using a black marker to turn them into mini Jack-o'-lanterns in the air!
Eerie Table Settings
Your little goblins will love dining at a table that's decked out in ghostly style! Set the scene with black and orange tablecloths and sprinkle plastic spiders and bats as confetti.
Don't forget to add DIY personalized place cards to make every guest feel extra special.
Frighteningly Fabulous Backdrop
Create a hauntingly cool photo backdrop to capture memories of your spook-tacular party.
Use black cardboard or old bed sheets as the canvas and paint a Halloween scene filled with moonlit skies, bats, and lurking creatures!
Now, with your DIY Ghoulish Decor Delights in place, your Halloween party is sure to be a frightful success!
So gather your crafting supplies, put on your witches' hat, and get ready to enchant your guests with a celebration they'll never forget! Happy crafting, my fellow Halloween enthusiasts!
DIY Halloween Party Idea #2: Freaky Fun Food & Drinks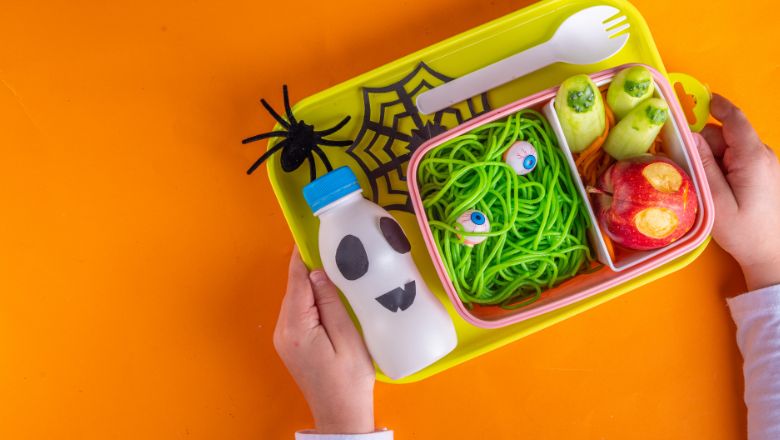 Are you ready to cook up some spook-tastic treats that'll delight your little monsters' taste buds?
Get your cauldrons and aprons ready, because we're diving into the realm of DIY Freaky Fun Food & Drinks!
Delightful Witches' Brew
Kick off your Halloween feast with a bubbling cauldron of witches' brew punch! Combine green lemon-lime soda, orange juice, and a splash of grenadine for that eerie hue.
Floating "eyeballs" made from lychee fruits stuffed with blueberries will add an extra creepy touch!
Monster Mash Meatballs
Transform ordinary meatballs into monstrous delights! Shape your ground meat mixture into little monsters and give them olive eyes and pepper fang teeth.
Bake them to perfection and watch the kids gobble them up like hungry werewolves!
Creepy-Crawly Cupcakes
Bake up a batch of Halloween-themed cupcakes that'll give your guests a delightful fright.
Frost them with eerie green icing and top with gummy worms or plastic spiders for a hair-raising surprise with every bite!
Petrifying Popcorn Hands
Your little ghouls will love this hands-on treat! Fill plastic gloves with popcorn, candy corn, and a few chocolate candies to represent "fingernails."
Tie the gloves closed and serve them as creepy popcorn hands. Perfect for munching during spooky stories!
Haunted Pizza Faces
Invite the kids to become mini pizza artists by creating their haunted pizza faces! Set out various toppings like olives, peppers, and cheese, and let them design spooky pizza masterpieces.
Bake them to perfection, and each slice will tell a scary tale!
Ghostly Fruit Kabobs
Offer a healthier treat with ghostly fruit kabobs. Use a ghost-shaped cookie cutter to cut out spooky shapes from slices of banana, pear, or apple.
Thread them onto skewers along with some grapes, and you've got a boo-tiful and nutritious snack!
Mini Mummy Dogs
Transform simple hotdogs into adorable mini mummy dogs! Wrap crescent roll dough around each hotdog, leaving space for the eyes.
Once baked, add mustard or ketchup eyes for a fun and freaky look.
Wickedly Sweet Witch Hats
Create delicious witch hats using chocolate cookies and Hershey's Kisses. Dip the bottom of the Kiss in frosting and attach it to the center of the cookie.
Voila! You've got an enchanting treat that'll leave everyone spellbound.
With these DIY Freaky Fun Food & Drinks, your Halloween party menu is sure to be a monstrous hit!
So roll up your sleeves, channel your inner witch, and prepare to amaze your little goblins with a feast they'll remember for years to come.
DIY Halloween Party Idea #3: Crafty Costume Corner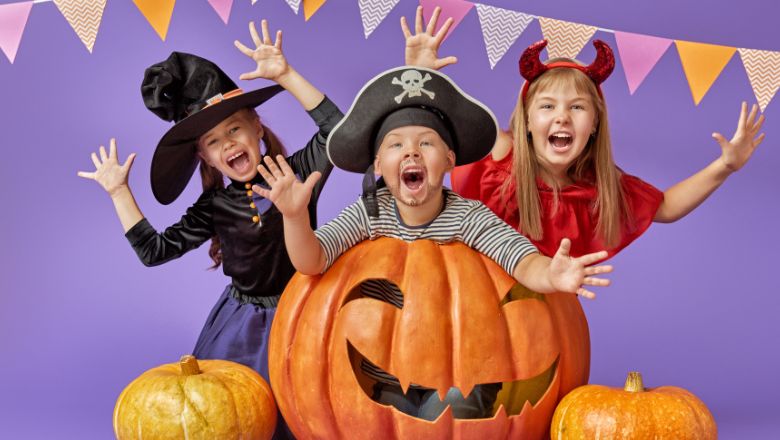 Time to get crafty and conjure up some Halloween magic with DIY costumes that'll make your little ones the stars of the night!
Welcome to the Crafty Costume Corner, where we'll transform your imagination into extraordinary outfits.
Costume Creativity Unleashed
Forget store-bought costumes—this year, we're all about embracing our inner designers and crafting unique Halloween looks.
Whether your little tyke wants to be a daring pirate, a mystical unicorn, or a friendly ghost, we've got you covered with simple yet stunning DIY ideas!
Enchanting Unicorn Dreams
Transform your child into a mystical creature with a handmade unicorn costume. Fashion a unicorn horn using a sturdy cardboard cone and cover it in shimmery fabric.
Create a colorful tutu skirt and pair it with a matching unicorn-inspired top—pure enchantment!
Frightful Mummy Mayhem
Bring the spooky vibes with a classic mummy costume that's quick and easy to make. Wrap strips of torn white bedsheets around your child's body, leaving space for eyes.
Add some strategic smudges of face paint, and they'll be ready to roam the halls of the pyramid!
Daring Superhero Adventures
Let your little hero's imagination take flight with a DIY superhero costume! Fashion a cape from a large piece of colored fabric and create a symbol using felt.
Add matching wristbands and a mask, and your child is now a force to be reckoned with!
Whimsical Woodland Creatures
For a touch of natural magic, go for woodland creature costumes! Craft fox ears and a tail from felt, or create fluffy bunny ears using a headband and faux fur.
Your child will feel like they've stepped straight into a fairytale forest!
Ghostly Glows in the Dark
Turn your child into a friendly glow-in-the-dark ghost! Use white clothing and attach glow-in-the-dark stickers or fabric paint to create a spooky effect.
Add a smiling ghost face for an adorable touch that'll shine when the lights go out!
Colorful Artistic Expression
Let your child's creativity run wild with a DIY artist costume! Provide a smock or large shirt, and set up an art palette with washable paints.
Their clothes will become a masterpiece of colors by the end of the party!
Enchanting Fairy Wings
Complete any costume with DIY fairy wings! Use wire hangers as a base and shape them into wing outlines.
Cover them with colorful tulle or sheer fabric, and secure them to your child's back using elastic straps. Watch them flutter and twirl like magical fairies!
With the Crafty Costume Corner's help, your little ones will be dressed to impress at the Halloween bash! So gather your crafting materials, put on your creative cap, and let your imaginations soar as you bring these fantastical costumes to life.
DIY Halloween Party Idea #4: Eerie Games & Activities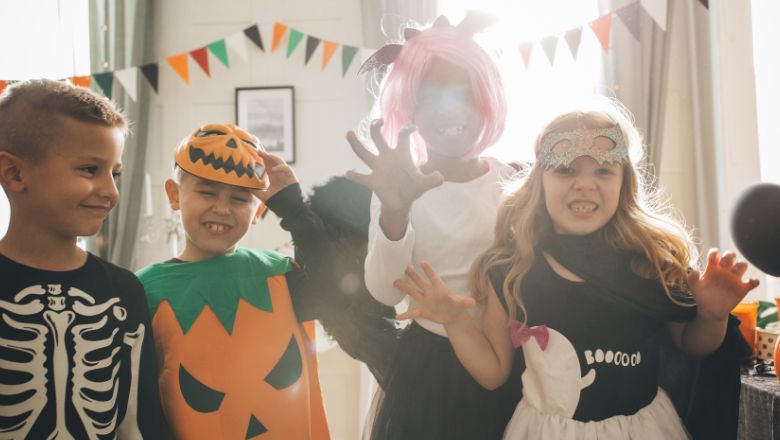 It's time to take your Halloween bash to the next level with spine-chilling games and activities that'll keep the little goblins entertained all night long.
Welcome to the world of Eerie Games & Activities, where the fun never ends!
Haunted Treasure Hunt
Send your young adventurers on a thrilling haunted treasure hunt! Create a map with spooky clues that lead to hidden treats or small Halloween-themed prizes.
Just beware of any friendly ghosts lurking around the corners!
Pumpkin Bowling Bonanza
Set up a fun pumpkin bowling alley in your backyard or living room. Use mini pumpkins as bowling pins and a small ball to knock them down.
The kids will have a ball competing to see who can knock down the most pumpkins!
Monster Freeze Dance
Turn up the Halloween tunes and get the kids grooving with a monster freeze dance! When the music stops, they must freeze in their most frightful poses.
Add in some creepy monster sound effects for an extra spooky twist!
Witch's Hat Ring Toss
Craft witch hats from sturdy cardboard and give them a magical makeover with black paint and orange ribbons.
Set them up as targets, and let the kids toss rings to land on the pointy brims. Who will have the witch-worthy aim?
Mummy Wrap Race
Divide the kids into teams and challenge them to mummy wrap their teammates! Hand out rolls of toilet paper or gauze bandages and let the race begin.
The first team to transform their mummy into a truly wrapped masterpiece wins!
Ghostly Bean Bag Toss
Create ghostly faces on white fabric or cardboard and cut holes for the mouths.
Place the ghost targets at varying distances and let the kids toss bean bags or small balls through their mouths. Each successful toss earns them spooky points!
Spooky Story Circle
Gather the little ones for a chilling story circle by candlelight. Pass around a pumpkin-shaped object, and whoever holds it must continue the spooky tale.
Watch their imaginations run wild as they weave ghostly stories together!
Potion Brewing Station
Transform your party into a magical laboratory with a potion brewing station! Set up various colored liquids (water with food coloring) in bottles and jars.
Let the kids mix and match the "ingredients" to create their enchanting potions.
With these Eerie Games & Activities, your Halloween party will be a howling success!
So put on your game face, unleash your inner ghost, and get ready for a night of frightful fun and laughter.
DIY Halloween Party Idea #5: Wickedly Awesome Party Favors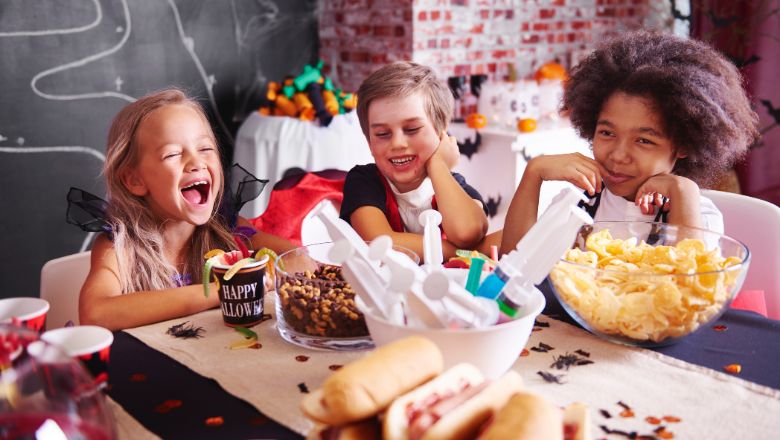 It's time to cast a spell of appreciation on your little guests with Wickedly Awesome Party Favors.
From creepy keepsakes to delightful treats, these DIY favors will leave your guests with a little piece of Halloween magic to take home.
Creepy Candy Cauldrons
Create mini cauldrons filled with sweet treats for your little witches and wizards. Grab some small black cauldrons from the craft store and fill them with an assortment of Halloween candies.
Seal them with a ribbon and a "Thank You" tag to add a personal touch.
Ghostly Goodie Bags
Transform plain white paper bags into adorable ghostly goodie bags! Use a black marker to draw friendly ghost faces on each bag.
Fill them with small toys, stickers, and Halloween-themed surprises that'll make the kids smile.
Spooky Slime Surprise
Slime is all the rage, so why not make it spooky for Halloween? Create your Halloween-themed slime using clear glue and adding orange, black, or green food coloring.
Throw in some spooky plastic spiders or bats to make it extra eerie!
Boo-tiful Bookmarks
Encourage reading with boo-tiful Halloween bookmarks! Cut out Halloween shapes from colored cardstock or use Halloween-themed stickers.
Laminate them to make them durable and attach a ribbon at the top for an adorable and useful party favor.
Haunting Handcrafted Masks
Send your guests home with DIY Halloween masks to spark their imaginations.
Provide blank masks or pre-cut templates, and let the kids decorate them with markers, feathers, sequins, and other craft supplies. Their creativity will shine through each unique creation!
Enchanted Mini Spell Books
Create mini spell books with blank pages and a spooky cover. Include a pen and encourage the kids to write down their own magical spells and potion recipes.
They'll cherish these enchanting keepsakes for years to come.
Ghostly Glow-in-the-Dark Jars
Fill small glass jars with glow-in-the-dark paint and swirl it around to coat the inside.
Add googly eyes to the jar lid to turn them into friendly ghosts. The kids can use these jars as nightlights or Halloween decorations.
Personalized Halloween Ornaments
Craft custom Halloween ornaments for your guests to hang on their trees. Use foam cutouts or wooden shapes and let the kids decorate them with paint, glitter, and stickers.
Add their names and the date for a special memento.
With these Wickedly Awesome Party Favors, your Halloween party will leave a lasting impression on your little guests! So get your creative cauldron brewing, and let the DIY magic flow as you create unique and delightful treats for your party-goers.
Creepy Crafts and Chilling Laughter: A Halloween Party to Remember!
As I sit back and catch my breath after our spook-tacular Halloween party, I can't help but wear a grin as wide as a jack-o'-lantern.
It was a night filled with laughter, mischief, and pure magic – everything a kid's Halloween party should be!
Crafting those five DIY Halloween party ideas was like conjuring up my very own potion of fun and excitement.
From the eerie glow of ghostly decorations to the sweet taste of wickedly delightful treats, every detail added to the enchantment of the night.
The little witches and wizards, pirates and princesses, all came together to enjoy the creepy crafts and hauntingly hilarious games. And the best part? Seeing their faces light up with joy and wonder made all the preparation worthwhile.
It's incredible how simple it can be to create unforgettable memories for the kids. And, to be honest, I had as much fun as they did!
So, if you're thinking of hosting your own Halloween party for the kiddos, don't be afraid to get your cauldron bubbling and your broomsticks flying. Embrace the DIY spirit, let your creativity run wild, and watch the magic unfold!