Making time for fun, romantic dates is so important when you're in a relationship.
But coming up with new date ideas all the time can be challenging! That's why I love putting together "date nights in a jar" as gifts for my partner.
The concept is easy – simply write out unique date ideas on slips of paper and put them in jars to pull out whenever you want a spontaneous date night. It takes the pressure off having to constantly plan.
In this blog post, I'll be sharing 5 of my favorite date night jar themes that are sure to bring excitement back into your relationship!
5 Creative Date Night in a Jar Ideas to Reignite the Spark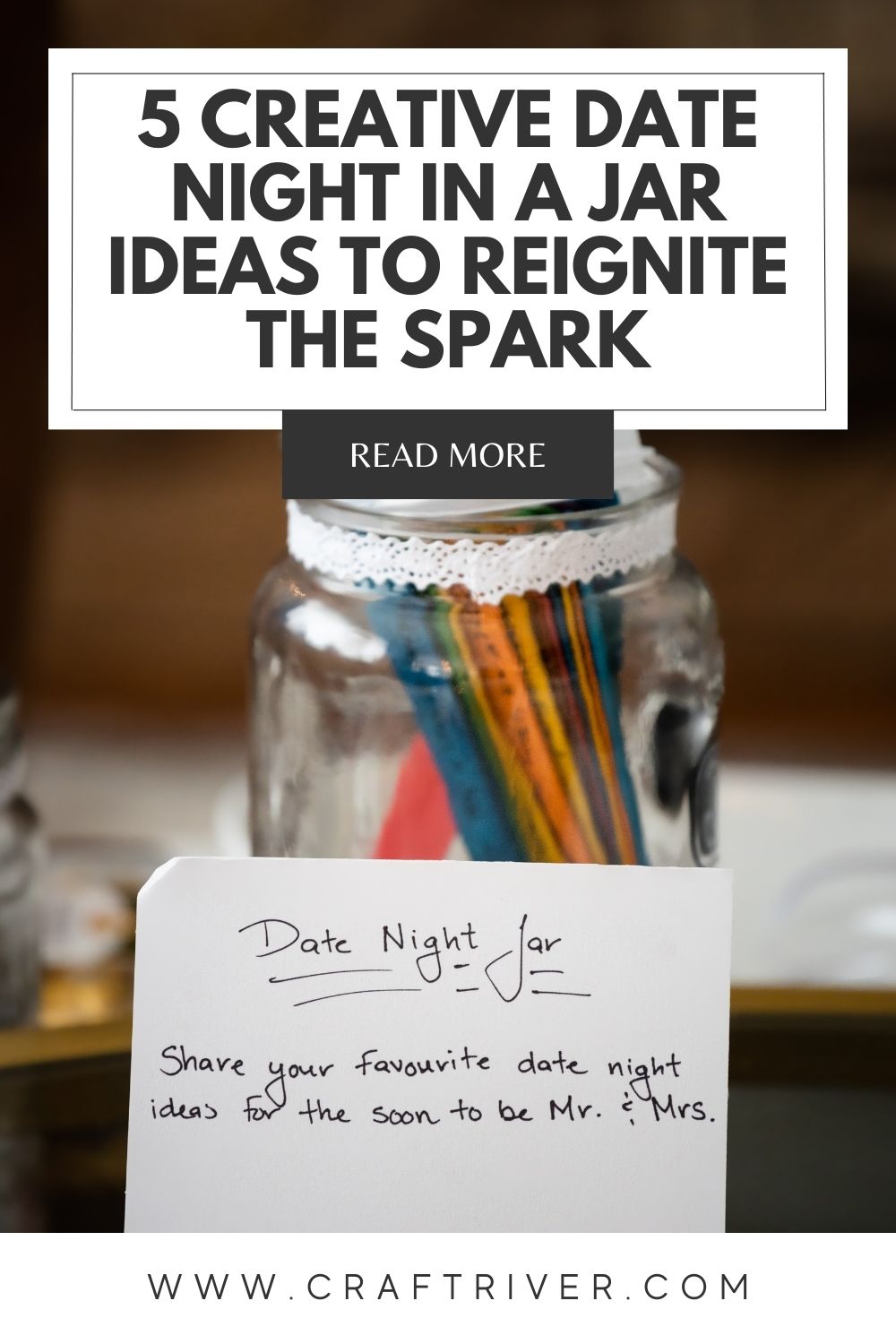 Is the spark in your relationship flickering? Do you yearn for those early days when every date was an adventure?
Fret no more! These 5 creative date nght in a jar ideas are here to add fuel to your flame. Prepare yourself for an extraordinary journey filled with surprise, anticipation, and rediscovery.
Culinary Delights Adventure
Cooking tasty meals side-by-side is always a fun bonding experience. For this culinary date theme, include ideas like:
– Pick a new recipe together and cook a special dinner.
– Create a themed menu night such as Italian, Mexican, or Japanese cuisine.
– Have a friendly cooking competition to see who can make the best dish.
Shop for ingredients together, pour some wine, turn on music, and enjoy making new dishes in the kitchen. Part of the fun is getting creative and experimenting with unique recipes you've never tried before.
End the night by lighting candles and appreciating all your hard work over a delicious homemade meal. This is one of my favorite dates to look forward to!
Outdoor Exploration Excursion
Spending time together in nature is refreshing for the mind and body. For outdoor dates, try ideas like:
– Plan a hike or nature walk in a nearby park or forest.
– Pack a picnic and enjoy a scenic spot with a breathtaking view.
– Go stargazing and learn about constellations together.
Getting active outdoors creates a spirit of adventure. The fresh air and vitamin D lift your mood while you bond over new experiences. Don't forget to bring a camera to capture special moments!
Outdoor dates are especially nice in the warmer months. But even just taking a stroll around the neighborhood together in winter can be romantic.
Arts and Crafts Bonanza
Tap into your creative sides together with artsy date ideas such as:
– Set up a mini painting session at home with canvases and paints.
– Create handmade cards for each other or loved ones.
– Try your hand at pottery making or sculpting with air-dry clay.
Crafting side-by-side is relaxing and meditative. Plus, you get to make personalized mementos from your dates that you can showcase in your home.
I love putting on some music, pouring a glass of wine, and laughing over our amateur artistic creations. Don't take it too seriously – the whole point is having playful quality time together.
Game Night Galore
Friendly competition is always fun! Game night date ideas include:
– Have a classic board game night with your favorite childhood games.
– Host a video game tournament with multiplayer games you both enjoy.
– Arrange a friendly game of cards with some snacks and beverages.
A little healthy competition brings out both your playful and competitive sides. Mix up the games – everything from Monopoly to MarioKart is fair game!
Half the fun is trash-talking and boasting when you demolish your partner in Connect 4. Order takeout to fuel your game night and enjoy lighthearted bonding time.
Memory Lane: Recreate Your First Date
This nostalgic date night is all about reliving fond memories:
– Try to replicate the ambiance and setting of your first date.
– Visit the same restaurant or cafe and reminisce about your initial days.
– Share stories and memories from the early stages of your relationship.
Recreating your first date reminds you of how far you've come as a couple. Reminisce over what you wore, where you sat, and funny things you were nervous about back then.
Feel transported back to the butterflies and excitement of your early days together. Then appreciate how your connection has grown since those first sparks flew!
Final Thoughts on Date Nights in a Jar
Date nights in a jar make such thoughtful, personalized gifts for your partner. Pulling out random slips brings spontaneity back into your time together.
It also provides pre-planned date activities so you can simply focus on having fun versus logistics. I hope these 5 creative themes inspire you to reignite that spark and passion in your relationship.