As a curly-haired girl, I'm always on the hunt for tips and tricks to help tame my unruly locks into smooth, frizz-free curls. Over the years, I've picked up plenty of curly hair hacks that allow me to rock my curls with confidence.
In this blog post, I'm sharing my 10 favorite hacks that give me gorgeously defined curls every time. Whether you have loose waves or tight coils, these game-changing techniques will be a lifesaver when it comes to styling your curls. Let's get started!
10 Genius Curly Hair Hacks That Give Me Perfectly Defined Curls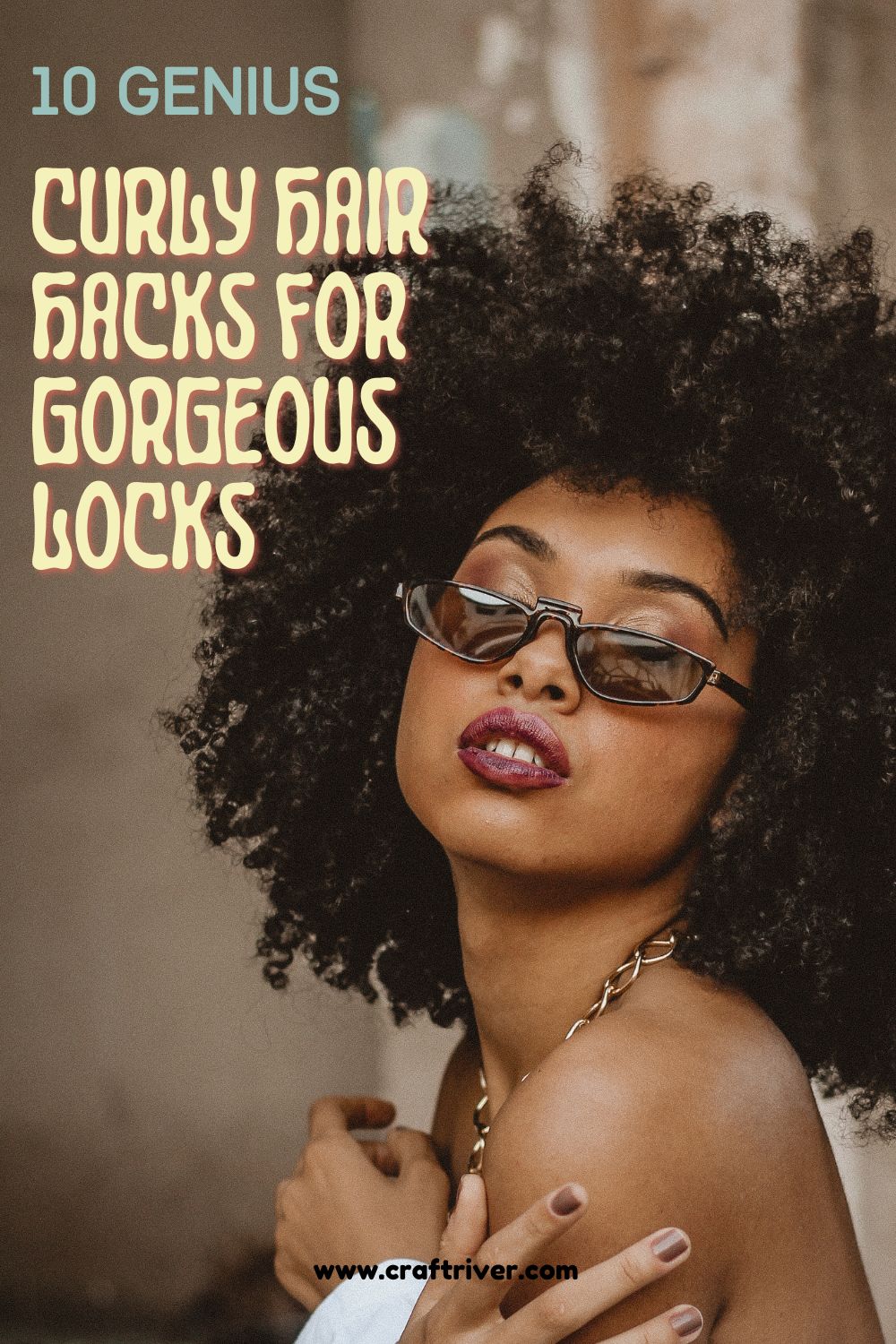 Taming your wild, curly hair can feel like trying to solve a Rubik's cube blindfolded–feels almost impossible, right?
But what if I told you that achieving the perfect curls doesn't have to be an uphill battle?
Welcome to your curly hair salvation: here are 10 genius hacks that will transform your frizzy mane into perfectly defined curls.
Use a Microfiber Towel
Ditch the normal bath towels and swap them to a microfiber hair towel instead. The smooth microfibers are gentle on curls and absorb excess moisture without causing frizz or breakage.
I wrap my hair in a microfiber towel after showering to soak up drips. Then once my hair is damp, not dripping, I apply my styling products. My curls always turn out smoother when using this towel trick.
Look for a hair towel made from ultra-fine microfiber for the best absorption. I prefer the towels with a button or strap design so you can securely wrap up your hair. The fabric is super gentle and doesn't tangle or snag wet strands.
Apply Products Upside Down
Styling your hair upside down helps the curls form beautifully right from the roots. Once my hair is damp, I flip my head over and evenly apply my curl cream, gel, or mousse.
Distributing products this way coats the hair strands thoroughly for consistently defined curls. I scrunch and style my curls upside down before flipping my head back up.
To get the most out of this technique, lean forward and flip your head over. I like to put my hands on my hips and let my hair cascade straight down toward the floor. Then I rake and scrunch products through my roots to ends.
Diffuse on Low Heat
High heat settings can cause frizz and damage to delicate curls. When diffusing, always use the low heat and low-speed settings. This gently dries curls while keeping the pattern intact.
I cup sections of hair into the diffuser, holding it still for 20-30 seconds before moving to the next section. With patience, I'm left with bouncy, shiny curls free of frizz.
Make sure not to touch or move the diffuser once it's positioned on your head. Allow the air to flow through and dry that section completely before adjusting. Slow, low heat diffusion takes a bit longer but is so worth it.
Sleep on a Silk Pillowcase
Cotton pillowcases can cause frizz and tangles overnight. Swap your regular pillowcase out for silk instead. The smooth, silky fabric doesn't absorb moisture from curls, helping preserve the style.
I've noticed way less bedhead and frizz when using my silk pillowcase. It also prevents hair breakage caused by friction.
Look for real mulberry silk or charmeuse silk, which have that super soft luxurious feel. The fabric allows your hair to smoothly glide across the surface instead of getting caught in the weave. Silk also repels moisture and dirt too.
Refresh with a Spray Bottle
When your curls need a refresh, grab a spray bottle filled with water. Misting the hair with water reactivates styling products and brings definition back to limp curls.
I spritz the spray bottle all over my hair, then scrunch in some curl cream or gel. This revives my curls so I don't have to do a full wash day.
I like to use a continuous fine mist spray bottle so you can control the amount of water coming out. Focus on spraying the mid-lengths and ends of hair rather than roots. Scrunch in your favorite styler and air dry for refreshed bouncy curls.
Pre-Poo Before Shampooing
Pre-pooing coats and protects hair before shampooing. Simply apply a nourishing hair oil from roots to ends before hopping in the shower.
I massage coconut or argan oil thoroughly into my dry hair. This prevents my curls from drying out during the shampoo process. My hair feels super soft and moisturized.
Look for a pure, cold-pressed oil without silicones or mineral oil. I like using coconut, olive, or avocado oil to pre-poo. The fatty acids help strengthen and hydrate strands before shampooing. Focus on coating the mid-lengths and ends extra well.
Deep Condition Once a Week
A weekly deep conditioning treatment works wonders to hydrate parched curls. I apply a thick hair mask after shampooing and let it soak for 15-30 minutes with a shower cap.
My favorite DIY treatment is mixing coconut oil, honey, and banana into a creamy mask. The vitamins and fatty acids nourish my strands and curls.
For extra moisture, apply your deep conditioner and put a shower cap on for 30 minutes up to overnight. The heat from your scalp helps the hair absorb all the nourishing ingredients. Rinse out thoroughly and follow up with a cold shot to seal the cuticle.
Style in Sections
Working in sections makes styling more defined curls so much easier. I part my damp hair into 4 sections using clips. Then I evenly apply products and style one section at a time.
Sectioning off the hair ensures every strand gets covered. This helps me achieve consistently smooth, frizz-free curls.
I like to work in 4 sections – 2 on top, 2 on bottom. Twist and clip up the other sections so they stay out of the way. Start with the bottom back section, then do the opposite sections in front. This ensures even coverage.
Use a Wet Brush in the Shower
A wet brush is a game changer for detangling curly hair pain-free. The flexible bristles glide through knots without ripping or pulling.
I brush through my hair using a wet brush while my conditioner is on in the shower. It detangles my curls gently so they don't turn into a big frizzy mess.
Be sure to only brush wet hair with lots of conditioner on it. Gently brush through sections starting from the bottom up. Rinse out the conditioner thoroughly after detangling. Your curls will air dry smooth and defined.
Air Dry Naturally
Let your curls air dry instead of using high heat. This allows their natural pattern to form without damage or frizz.
After applying my products, I let my hair air dry the rest of the way, only diffusing the roots a bit. Embracing the air dry results in the most defined, touchable curls.
If you have time, air drying is hands down the best way to get frizz-free results. Just prep your curls properly with styling products, then let them do their thing. Any touch-ups can be done once the hair is fully dry.
Additional Tips for Fabulous Curls
Here are a few more of my favorite curly hair tricks for enhancing your natural texture:
– Get regular trims to prevent split ends and frizz. I trim every 10-12 weeks to keep my curls healthy.
– Use a curl-defining cream to help coils clump together smoothly. My curls love Uncle Funky's Daughter Curly Magic.
– If hair lacks definition, try a protein treatment. The Aphogee 2 Step is amazing for tightening up limp curls.
– Protect curls overnight by covering them with a bonnet or pineapple hairstyle. This prevents tangles and knots.
– Always apply products to soaking wet hair! This helps curls absorb moisture and defines the curl pattern.
In Summary
There you have it – my top 10 tried and true curly hair hacks for frizz-free, beautiful curls!
From using a microfiber towel to diffusing gently, these tricks have been total game changers for styling my hair. I hope these tips help you unleash your best curls too.