Thanksgiving is just around the corner, and I don't know about you, but I'm always on the lookout for fun activities to keep the kids entertained.
That's why I'm excited to share with you some awesome DIY Thanksgiving crafts that your little ones will love!
So, if you're looking for creative ways to get the kids involved in the holiday spirit, you've come to the right place. In this blog post,
I'll be revealing 5 Easy DIY Thanksgiving Crafts for Kids To Make. Trust me; these crafts are super simple and perfect for all skill levels.
So, what are you waiting for? Let's dive in and discover these fantastic crafts that will make this Thanksgiving one to remember. Get ready for laughter, creativity, and a whole lot of fun!
Crafty and Thankful: 5 Kid-Friendly DIY Thanksgiving Projects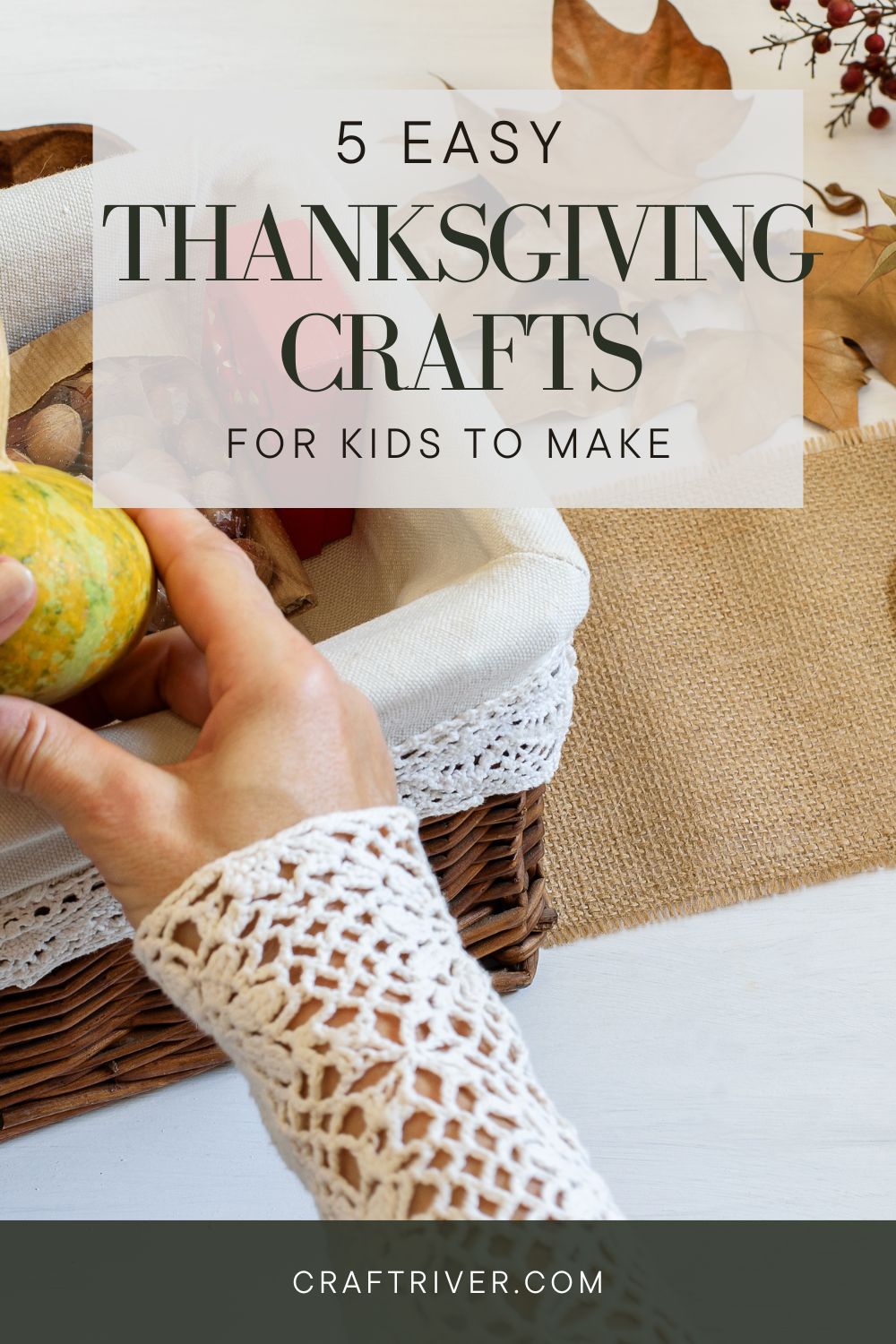 Thanksgiving is a time to come together with loved ones, express gratitude, and indulge in delicious feasts. But why not add a little extra creativity and excitement to this cherished holiday?
With these 5 kid-friendly DIY Thanksgiving projects, you can transform your home into a joyful craft haven where young minds can explore their imagination while learning about the history and traditions of this special day.
Craft 1: Handprint Turkey Placemats
Get ready to add a touch of cuteness and personalization to your Thanksgiving table with Handprint Turkey Placemats! These adorable creations will have your little ones excited to show off their artistic talents.
Step 1: Gather Your Supplies
First things first, gather all the materials you'll need for this fun craft. Grab some washable paint in various colors, construction paper, markers, and glue. Oh, and don't forget those tiny hands ready to get messy!
Step 2: Paint Those Tiny Hands
Now comes the messy (and super fun) part! Dip your child's hand in the paint and make a colorful handprint on the construction paper. Repeat the process with different colors to create a beautiful feather pattern.
Step 3: Bring Your Turkey to Life
Once the handprints are dry, it's time to add the turkey's face and legs. Draw or cut out eyes, beaks, and feet from construction paper or use googly eyes for an extra dose of cuteness. Let your child's imagination run wild!
Step 4: Assemble Your Placemat
Get ready to put it all together! Glue the turkey's face and legs onto the handprint feathers. You can also add some fun details like a top hat or a colorful bowtie. The more creative, the better!
Step 5: Ready for Thanksgiving!
Voila! Your Handprint Turkey Placemat is complete and ready to make its debut on your Thanksgiving table. Each placemat will be a unique masterpiece, and your little one will be bursting with pride.
Bonus Tip: To protect your placemats from spills, you can laminate them or cover them with clear adhesive sheets.
Now, picture this – the whole family gathered around the table, each with their handprint turkey placemat proudly displayed. It's not just a craft; it's a memory in the making. So, grab your art supplies, and let's create some unforgettable Thanksgiving magic together!
Craft 2: Gratitude Tree
Get ready to embrace the spirit of gratitude with the heartwarming Gratitude Tree! This craft is all about spreading thankfulness and creating a meaningful centerpiece for your Thanksgiving celebrations.
Step 1: Hunt for the Perfect Brunch
Take a nature walk with your kids and search for a beautiful tree branch that will serve as the trunk of your Gratitude Tree. It can be as big or small as you like; just make sure it fits nicely in a vase or a container.
Step 2: Add Some Autumn Colors
Now, it's time to get crafty with construction paper or cardstock. Cut out leaf shapes in vibrant autumn colors like red, orange, and yellow. These colorful leaves will represent the things your family is thankful for.
Step 3: Reflect and Write
Gather the family around and reflect on the things that bring joy and gratitude to each member. Each person can write what they're thankful for on individual leaves. It could be family, friends, good health, a favorite book, or even the family pet!
Step 4: Decorate Your Tree
Attach the gratitude leaves to the branches of your Gratitude Tree using tape or small clips. As the leaves add up, your tree will become a visual display of all the blessings in your life.
Step 5: Share the Joy
As you celebrate Thanksgiving, take turns reading aloud the messages of gratitude on the leaves. It's a heartwarming experience to see how much love and appreciation can bloom from a simple craft.
Bonus Tip: Keep your Gratitude Tree throughout the holiday season, and encourage family members to add more leaves as they think of new things to be grateful for.
Imagine the joy and warmth that will fill your home with this beautiful reminder of gratitude. The Gratitude Tree is not only a craft but also a meaningful tradition that will strengthen the bond among family members. So, let's start this tradition and let the spirit of thankfulness blossom this Thanksgiving!
Craft 3: Pinecone Turkeys
Get ready to bring a touch of the great outdoors to your Thanksgiving celebration with these adorable Pinecone Turkeys! This craft combines nature, creativity, and a whole lot of fun.
Step 1: Pinecone Hunt
Go on a nature adventure with your little ones to find the perfect pinecones. Look for ones with full, open scales, which will make it easier to attach the turkey's features.
Step 2: Feathers and Glue
Time to give your turkey some colorful feathers! Grab some craft feathers in different shades and sizes. Using glue, carefully attach the feathers to the back of the pinecone, fanning them out to create a tail.
Step 3: Googly Eyes Galore
The eyes have it! Add a pair of googly eyes to your pinecone turkey to bring it to life. You can use craft glue or adhesive dots to secure them in place.
Step 4: A Beaky Finish
Now, let's add a beak. Cut a small triangle from colored paper or use an orange craft foam sheet. Attach it just below the eyes with glue.
Step 5: Time for the Gobbler
Every turkey needs a gobbler! Cut a small piece of red paper or red foam and glue it just below the beak. This will complete your pinecone turkey's face.
Step 6: Stand Tall
If you want your pinecone turkey to stand upright, attach a small, flat piece of cardboard or craft foam to the bottom of the pinecone using glue. This will act as a stable base.
Bonus Tip: Get creative with accessories! You can make tiny pilgrim hats, scarves, or even pilgrim shoes for your pinecone turkeys.
Just imagine a flock of these cute pinecone turkeys decorating your Thanksgiving dinner table or gracing your mantelpiece. It's a craft that connects us to nature and fills our hearts with holiday cheer. So, grab those pinecones and feathers, and let's create a Thanksgiving masterpiece together!
Craft 4: Thankful Handprint Wreath
Get ready to add a personal touch to your Thanksgiving decorations with the Thankful Handprint Wreath! This craft is all about capturing the essence of gratitude and creating a beautiful keepsake to cherish for years to come.
Step 1: Gather Your Supplies
Start by gathering the materials you'll need for this heartwarming craft. You'll need some cardboard or thick paper for the wreath base, painted in autumn colors, and markers for extra details.
Step 2: Trace Those Tiny Hands
Trace your child's handprints onto different colored paper or directly onto the cardboard. Use a mix of fall colors like red, orange, and brown to capture the essence of the season.
Step 3: Fill the Wreath Base
Cut out the handprints and arrange them in a circle on the wreath base, overlapping slightly to create a full wreath. Glue them down securely, making sure to alternate the colors for a beautiful effect.
Step 4: Add Gratitude Messages
Encourage your child to think about what they are thankful for and write those messages on the handprints. It could be as simple as "family," "friends," or "hugs."
Step 5: Embrace the Details
Get creative with some extra details! You can add fall-themed decorations like paper leaves, acorns, or even small pumpkins to make the wreath even more festive.
Step 6: Hang and Admire
Once the wreath is complete, find the perfect spot to hang it proudly in your home. Let everyone in the family admire the beautiful wreath and read the heartfelt messages of gratitude.
Bonus Tip: You can create mini versions of the wreath for each family member to personalize with their thankful messages.
Just picture it – a stunning handprint wreath adorning your front door or gracing the walls of your living room. It's more than just a craft; it's a daily reminder of all the blessings in your life. So, let's get those hands traced and create a masterpiece of thankfulness this Thanksgiving!
Craft 5: Pumpkin Apple Stamps
Get ready to dive into some fall-inspired creativity with Pumpkin Apple Stamps! This craft is a fun and easy way to create unique artwork and festive decorations for Thanksgiving.
Step 1: Pick Your Produce
Head to your local farmers' market or grocery store and pick out some fresh, firm apples and small pumpkins. These will be the stars of your stamping show!
Step 2: Slice and Dice
Carefully cut the apples and pumpkins in half to create flat surfaces. The apples will give you a circular stamp, while the pumpkins will yield a more irregular, pumpkin-like shape.
Step 3: Ready, Set, Paint!
Pour a small amount of orange paint onto a flat surface, like a paper plate or a shallow container. Dip the cut side of your apple or pumpkin into the paint, making sure it's evenly coated.
Step 4: Stamp Away!
Now comes the fun part! Press the painted side of your apple or pumpkin onto paper or cardstock to create your stamp. Experiment with different colors and arrangements to create a lovely fall-themed artwork.
Step 5: Decorate and Display
Once your pumpkin apple stamps are dry, you can add extra details with markers, glitter, or even some glued-on paper leaves. Use your stamped masterpieces to decorate cards, gift tags, or even your Thanksgiving table!
Step 6: Preserve and Reuse
If you want to keep your stamps for future projects, rinse them with water and pat them dry after each use. With proper care, they can become your go-to craft tool for fall-themed creations.
Bonus Tip: Play around with different types of paper, like textured cardstock or even brown kraft paper, to add a rustic touch to your artwork.
Imagine the delight on your kids' faces as they proudly show off their pumpkin apple masterpieces. It's a craft that celebrates the beauty of autumn and allows us to express our creativity most colorfully. So, grab those apples and pumpkins, and let's stamp our way into a spectacular Thanksgiving!
Let's Get Crafty: Thanksgiving DIY Fun for Kids!
By now, you've discovered 5 Easy DIY Thanksgiving Crafts for Kids To Make, and trust me, your holiday season is about to get a whole lot more colorful and joyful.
From adorable turkey handprints to charming gratitude trees, these crafts are sure to fill your home with love and creativity.
So gather your art supplies, clear some space on the kitchen table, and get ready for a Thanksgiving filled with handmade magic.
Your kids will beam with pride as they show off their creations, and you'll cherish these moments for years to come.
Thank you for joining me on this crafting adventure. I hope you and your family have a fantastic Thanksgiving, filled with love, laughter, and the joy of creating together.