I'm no stranger to the challenge of turning a shoebox-sized bedroom into a cozy haven without raiding the piggy bank. 
So, grab your creative thinking cap because I'm about to share my top-secret, budget-friendly tricks for transforming your pint-sized bedroom into a charming retreat. 
Whether you're dealing with a dorm room, a cozy apartment, or just looking to maximize your space, stick around for these five small bedroom decorating ideas on a budget that'll leave you swooning, and your wallet singing with joy!
5 Small Bedroom Decorating Ideas On a Budget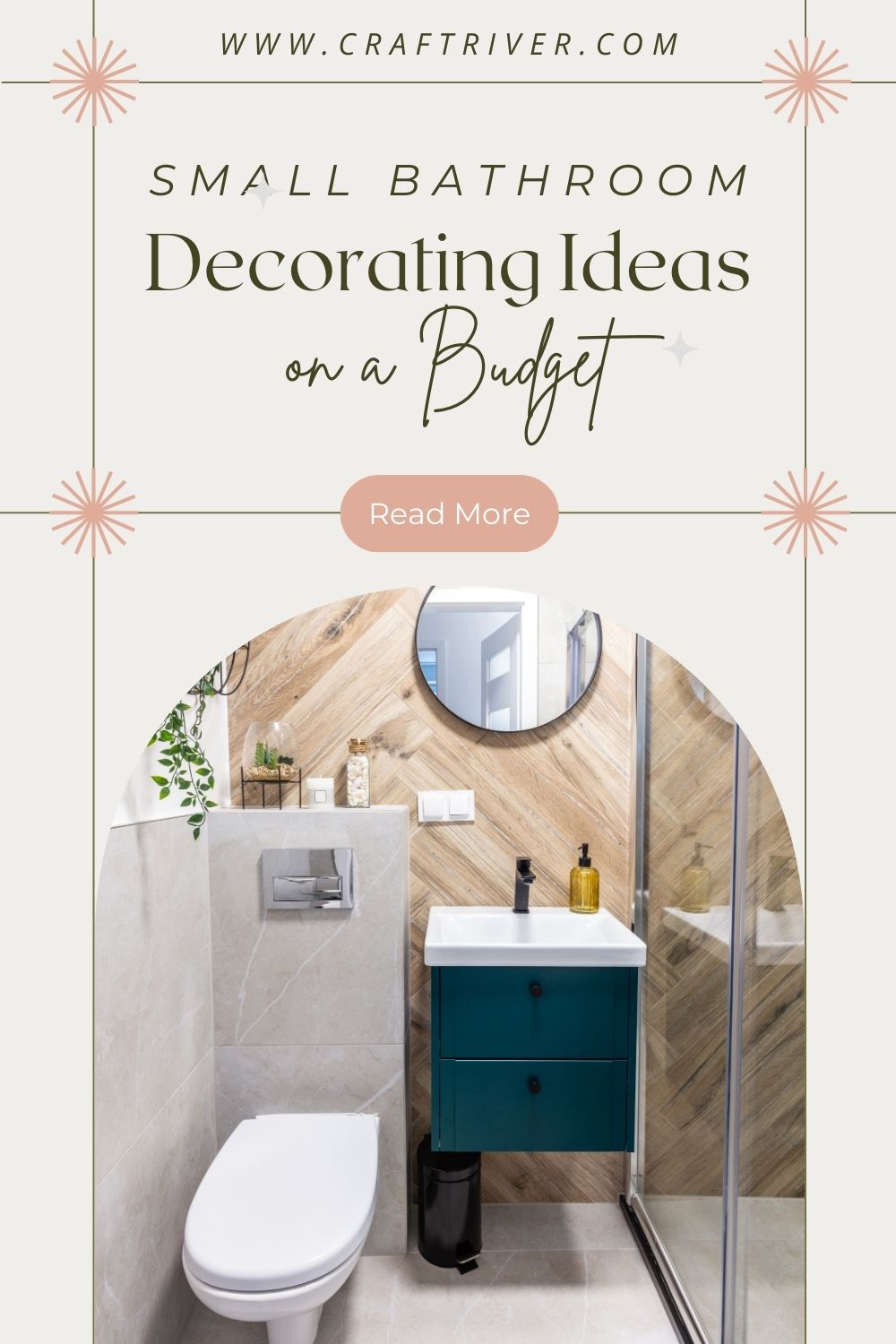 Are you tired of feeling overwhelmed in your cramped bedroom space? Longing for a chic, spacious vibe without breaking the bank? 
I've got you covered! The next section is the much-needed magic wand that will transform your tiny haven into an elegant and inviting space.
Multifunctional Furniture: Maximizing Space with Purposeful Pieces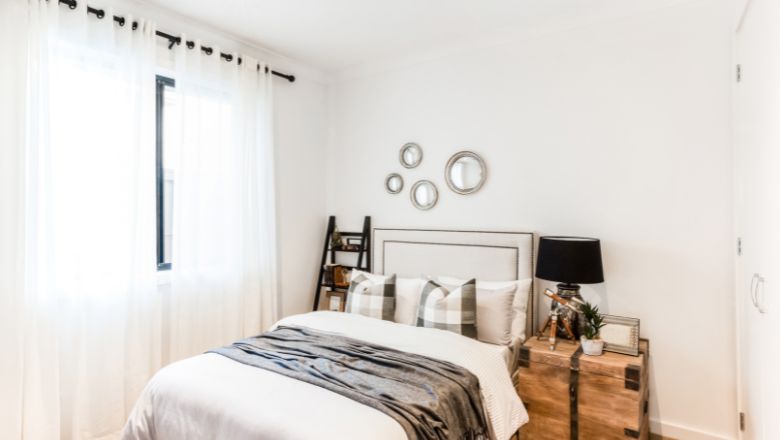 Ah, the magic of multifunctional furniture never fails to amaze me. 
Let me take you on a journey through my own experiences of embracing the art of purposeful pieces and how they have transformed my small bedroom into a versatile and efficient sanctuary.
Incorporating Storage Beds or Loft Beds to Optimize Space
When square footage was at a premium, I swiftly turned to the genius of storage beds and loft beds. 
These clever space-saving solutions not only provide a cozy spot for sleeping but also offer ample hidden storage compartments for stashing away extra linens, seasonal clothing, and other odds and ends. 
Trust me, the liberation of floor space and the newfound organization was like a breath of fresh air, making my bedroom feel instantly more spacious and inviting.
Using Foldable or Collapsible Furniture for Versatility
In my pursuit of a flexible and dynamic bedroom layout, I wholeheartedly embraced the concept of foldable and collapsible furniture. 
From foldable desks to collapsible chairs, these adaptable pieces not only provided me with functional work and seating areas but also allowed me to transform my bedroom into a multipurpose space whenever the need arose. 
The seamless transition from a work nook to a relaxation zone was nothing short of a revelation, maximizing the utility of every square inch and adding a touch of versatility that elevated the overall functionality of my small yet mighty bedroom haven.
When it comes to multifunctional furniture, the key lies in striking the perfect balance between practicality and aesthetics. So, go ahead and explore the world of purposeful pieces – your small bedroom will thank you for it!
Creative Storage Solutions: Tackling Clutter with Clever Organizing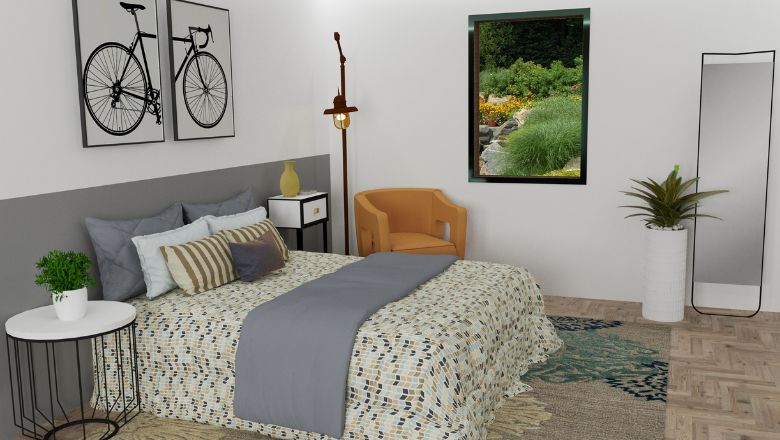 Let's dive into the exhilarating world of creative storage solutions and how they can work wonders in taming the clutter beast within a small bedroom. 
Trust me, the right storage hacks can transform your bedroom into a streamlined sanctuary. Here's how I've conquered the chaos and unlocked the true potential of my compact bedroom space.
Implementing Under-Bed Storage or Wall-Mounted Shelves
In my quest for a clutter-free bedroom oasis, I discovered the hidden gem of under-bed storage and wall-mounted shelves. 
By utilizing these often overlooked spaces, I reclaimed valuable real estate and bid farewell to the days of stumbling over random piles of belongings. 
With neatly organized under-bed storage containers and stylish wall-mounted shelves, I not only optimized my storage capacity but also added a touch of visual appeal to my bedroom, creating a harmonious and serene atmosphere that radiated order and calm.
Utilizing Vertical Space with Hanging Organizers or Hooks
When faced with the challenge of limited floor space, I swiftly turned my attention to the vertical dimension and uncovered the untapped potential of hanging organizers and hooks. 
By making the most of my walls and doors, I bid farewell to the days of scattered accessories and unruly garments. 
From hanging organizers for shoes and accessories to hooks for bags and hats, these creative storage solutions not only maximized my available space but also added a touch of organizational finesse that transformed my bedroom into a clutter-free haven.
The beauty of creative storage lies in its ability to marry functionality with style, so go ahead and embrace the art of clever organizing – your small bedroom will thank you for it!
Color and Lighting Magic: Setting the Mood with Visual Illusions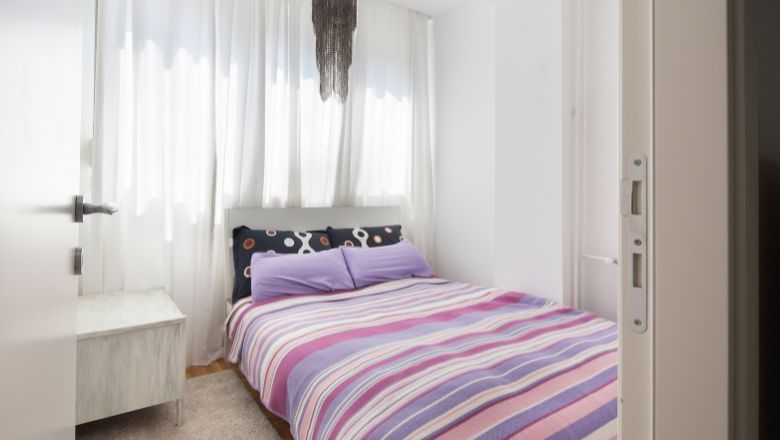 Ah, the transformative power of color and lighting in a small bedroom never ceases to amaze me. 
Let me share my journey of experimenting with hues and lighting schemes that have breathed new life into my cozy haven, creating a mesmerizing visual tapestry that amplifies the sense of space and serenity.
Using Light and Neutral Colors to Create an Illusion of Space
In my pursuit of a more expansive and airy bedroom atmosphere, I swiftly bid farewell to dark and oppressive colors and wholeheartedly embraced the enchantment of light and neutral tones. 
By painting my walls in soft, soothing hues, I instantly tricked the eye into perceiving the room as larger and more open, fostering a sense of tranquility and relaxation that set the stage for a restful night's sleep. 
Trust me, the subtle shift in color palette worked like magic, turning my once-cramped bedroom into a tranquil sanctuary that exudes an aura of peace and balance.
Incorporating Strategic Lighting to Enhance the Ambiance
To further elevate the enchantment of my small bedroom, I delved into the art of strategic lighting and its impact on the overall ambiance. 
By incorporating a blend of ambient, task, and accent lighting, I sculpted a dynamic and versatile lighting scheme that not only brightened up the room but also highlighted key focal points, creating a captivating and inviting atmosphere that adapts to my various moods and needs. 
The perfect balance of lighting not only enhanced the aesthetic appeal of my bedroom but also uplifted my spirits, transforming my intimate space into a haven of warmth and comfort.
When it comes to color and lighting, it's all about orchestrating a symphony of visual delights that harmonize to create an enchanting bedroom retreat. So, go ahead, play with hues and light, and watch as your small bedroom undergoes a breathtaking metamorphosis that reflects your unique personality and style.
DIY Decor and Personal Touches: Infusing Character into the Space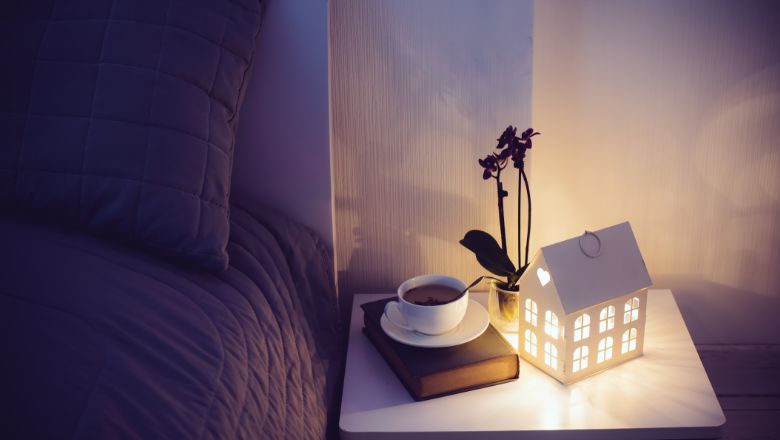 Ready to embark on a journey of self-expression and creativity in your small bedroom? Look no further than the enchanting world of DIY décor and personal touches! 
Let me take you through my adventures of infusing character and charm into my bedroom sanctuary through the power of handcrafted elements and personalized accents.
Creating Custom Artwork or Decorative Accents
In my quest for a bedroom that reflects my unique personality, I dived headfirst into the realm of DIY artwork and decorative accents. 
From crafting my wall art to designing bespoke photo frames, these personalized creations injected a touch of warmth and individuality into my bedroom space, evoking a sense of joy and pride every time I laid eyes on my handiwork. 
Trust me, the satisfaction of showcasing your creativity is unparalleled, adding a layer of intimacy and authenticity to your bedroom that no store-bought décor can replicate.
Crafting Unique Headboards or Accent Pieces
When faced with the desire to elevate the aesthetics of my bedroom, I turned to the allure of DIY headboards and accent pieces. 
From repurposing old doors to designing custom fabric headboards, these one-of-a-kind creations not only added a striking focal point to my bedroom but also served as a testament to my ingenuity and craftsmanship. 
Embracing the art of DIY not only amplified the visual appeal of my bedroom but also fostered a sense of pride and connection to my intimate space, transforming it into a true reflection of my style and spirit.
The beauty of DIY décor lies not only in the final product but in the joy of the creative process itself. So, roll up your sleeves, unleash your imagination, and let your bedroom become a canvas for your artistic narrative!
Greenery and Natural Elements: Bringing Life and Freshness to the Bedroom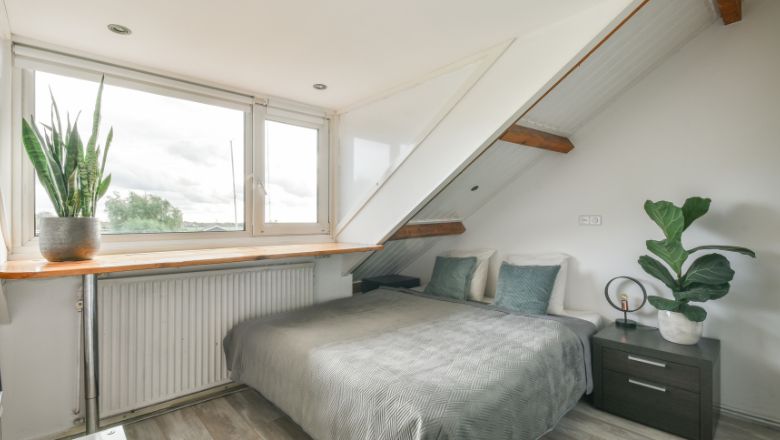 Craving a breath of fresh air and a touch of nature's revitalizing charm in your small bedroom? Look no further than the enchanting world of greenery and natural elements! 
Let me share my journey of infusing life and vibrancy into my cozy bedroom sanctuary through the seamless integration of lush greenery and organic accents.
Incorporating Low-Maintenance Indoor Plants for a Touch of Nature
In my pursuit of a rejuvenating and vibrant bedroom oasis, I discovered the transformative power of low-maintenance indoor plants. 
From cascading ivy to resilient peace lilies, these botanical beauties not only added a splash of lush greenery to my bedroom but also purified the air and created a calming and revitalizing atmosphere. 
Embracing the nurturing presence of these green companions not only uplifted the aesthetic appeal of my bedroom but also instilled a sense of tranquility and harmony, turning it into a peaceful haven that rejuvenates both the body and the soul.
Using Natural Materials for Accessories or Accents
To further amplify the natural allure of my bedroom, I delved into the world of natural materials for accessories and accents. 
From rustic wooden photo frames to earthy woven baskets, these organic elements not only added a touch of rustic elegance to the space but also complemented the vibrant greenery, creating a harmonious and inviting bedroom sanctuary. 
The seamless integration of natural materials not only connected me with the earth but also instilled a sense of grounding and peace within my intimate space, fostering a nurturing environment that radiates warmth and authenticity.
The essence of greenery and natural elements lies in their ability to breathe life into your bedroom, fostering a connection with nature that rejuvenates both the mind and the spirit. So, go ahead, invite nature into your sanctuary, and witness the transformative magic unfold before your eyes!
Small Bedroom Marvels: Your Ticket to Budget-Friendly Dream Decor!
As I bid adieu, I can't help but revel in the joy of witnessing my cramped bedroom undergo a jaw-dropping transformation on a shoestring budget. 
Embracing the power of creativity and a touch of DIY magic, I've unlocked the true potential of my snug sanctuary, turning it into a haven of comfort and style that reflects my unique flair. 
So go ahead, dive into these budget-friendly ideas, and let your imagination soar as you weave your small bedroom wonderland without breaking the bank. 
Trust me, with a dash of ingenuity and a sprinkle of resourcefulness, your pint-sized paradise awaits its moment to shine!